---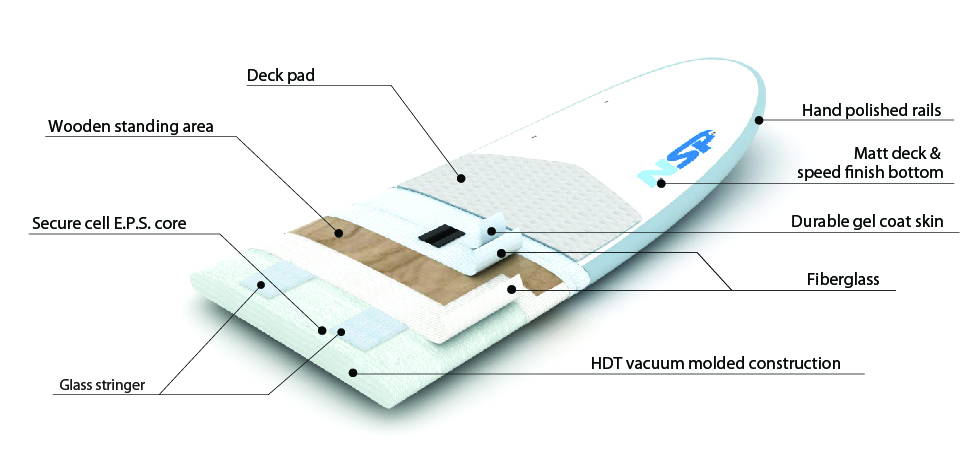 Durability, value and performance – the go-to board for any recreational paddler.

– EPS SecureCell core is wrapped in lightweight fiberglass and molded creating a durable shell.

– The ultimate choice for retailers looking to stock a single SUP range.

– Offers the recreational market great performance shapes at attractive prices.

– The amazing blend of construction features including eco-friendly bio-resin is a game-changer in its category.
Eco-friendly precision molded boards utilizing Coconut husks.
– Cocomat is an innovative, sustainable, proprietary and patent pending technology.
– NSP uses raw coconut husk fibers from naturally sustainable plantations with eco-friendly bio-resin.
– Visually unique board with an unmatched strength to weight ratio.
– Light to carry, easy to maneuver and even lighter to paddle.
– Responsive flex and strength gives confidence to push your limits in the conditions.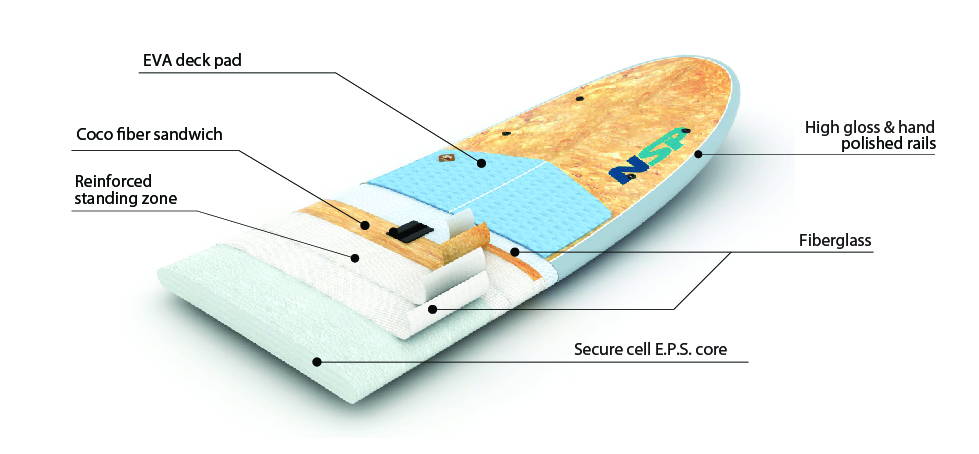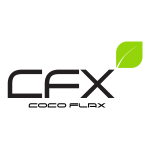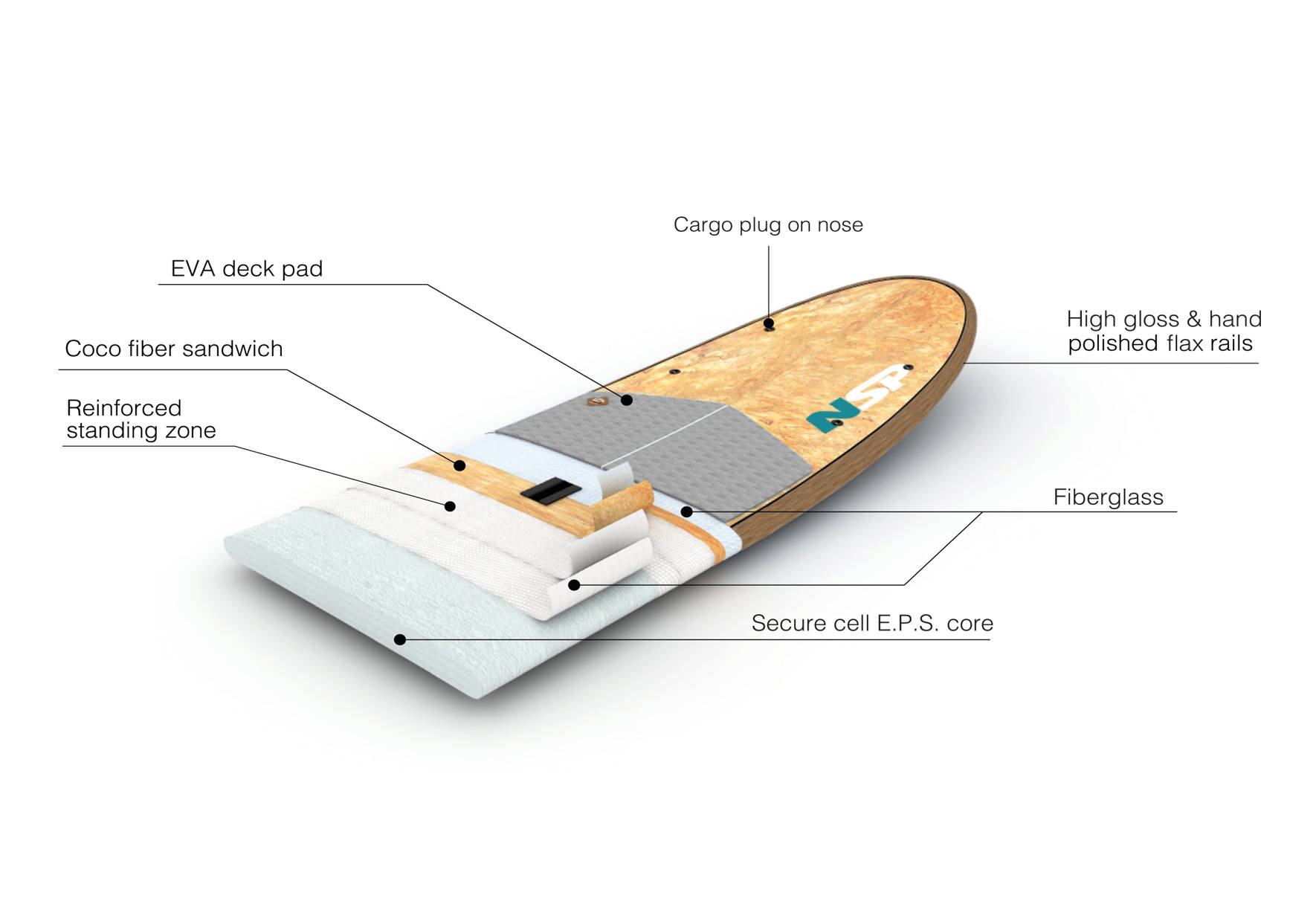 Amazingly light, yet strong, high end eco-friendly performance boards featuring natural Flax rails. Recognized and awarded at the 2019 Paddle Expo as "Product of the Year".


In 2019, NSP introduces uni-directional (UD) Flax fiber rails to its (already) eco-friendly CocoMat series. Flax is a highly durable and naturally reinforced fiber that allows a board construction with significantly less fiberglass, which reduces our overall carbon footprint.
– Natural Flax fiber rail and tail patch
– Visually unique board with an unmatched strength to weight ratio.
– Light to carry, easy to maneuver and even lighter to paddle.
– Responsive flex and strength gives confidence to push your limits in the conditions.
SLX technology delivers wave riding performance and reduced weight without compromising

durability.

– Vacuum bonded SLX (Super Light Epoxy) core offers a lighter weight versus others.

– New lay-up features a biax glass and bamboo veneer deck for improved impact resistance.

– Uni directional carbon rails for superior flex control and increased durability.

– SLX: A premium and high performance package.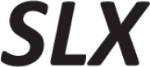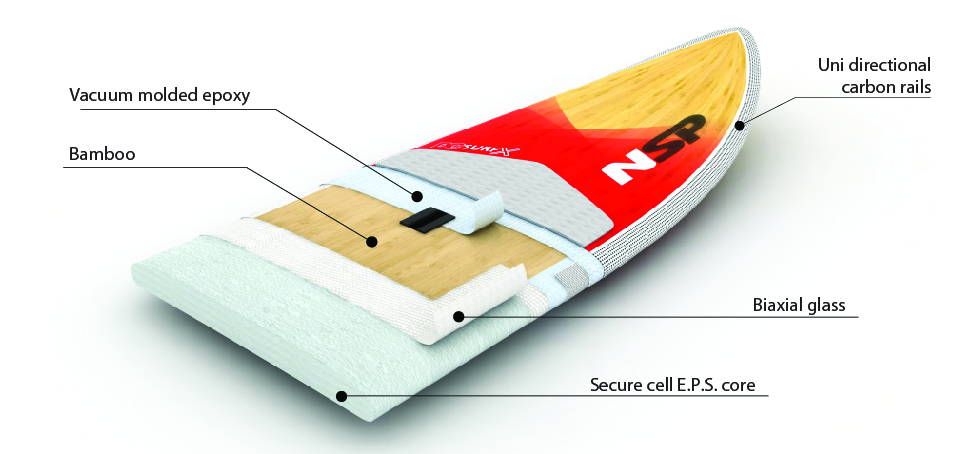 ---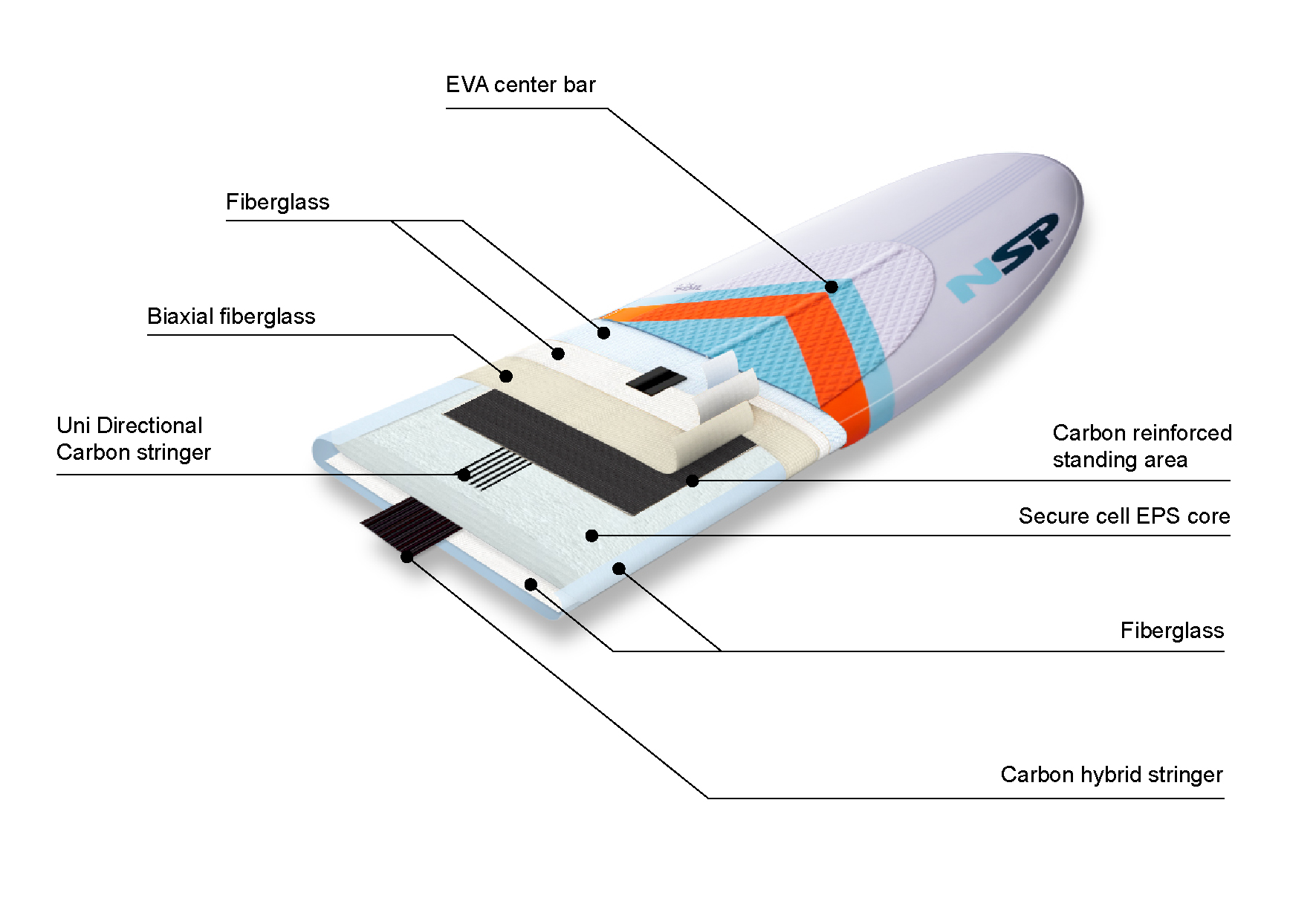 Extremely Durable, Lightweight and Fun to SUP Foil.

• SLX – Super Light Epoxy. Lightweight, responsive and extremely versatile boards.

• Reinforced Carbon standing area positioned just above the foil box to provide added strength during board pumping while foiling.

• The standing area is further reinforced with biaxial glass to avoid dings or dents from excessive pumping, while also helping to prevent delaminating.

• Center ridge just below the EVA deck pad runs conveniently along the entire length of the board allowing you to position yourself on the center of your board without looking down.
• Full-length uni-directional carbon stringer on the deck and a uni-directional hybrid carbon stringer on the bottom add strength, flexibility and foil drive.

The twin track foil mount fits perfectly for the NSP Airwave Hydrofoil, but allows for installation of many other foils on the market.
Unrivalled strength and high durability.

– E+ is the next evolution of NSP's famous E2 Classic molding technology.

– The E+ range features NSP's most popular board designs.

– Ultimate choice for rental centers with proven return on investment.

– Deploys extremely tough military grade fibers and ASA sheet creating a ballistic skin on deck and bottom.

– EPS SecureCell core and eco-friendly bio-resin.

– Perfect for schools and rentals demanding a highly durable product with long term ROI.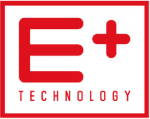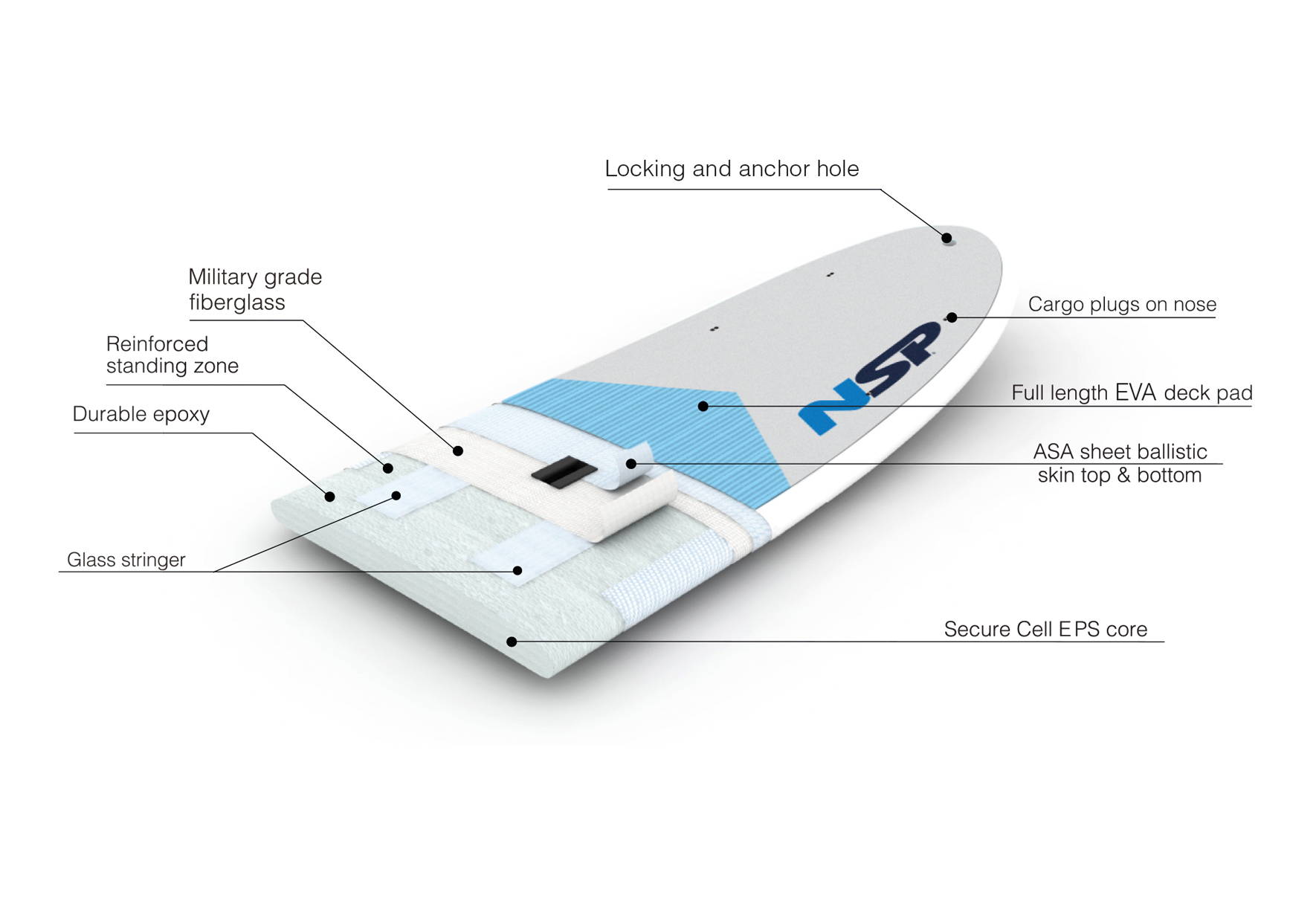 ---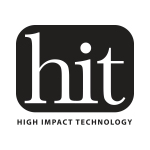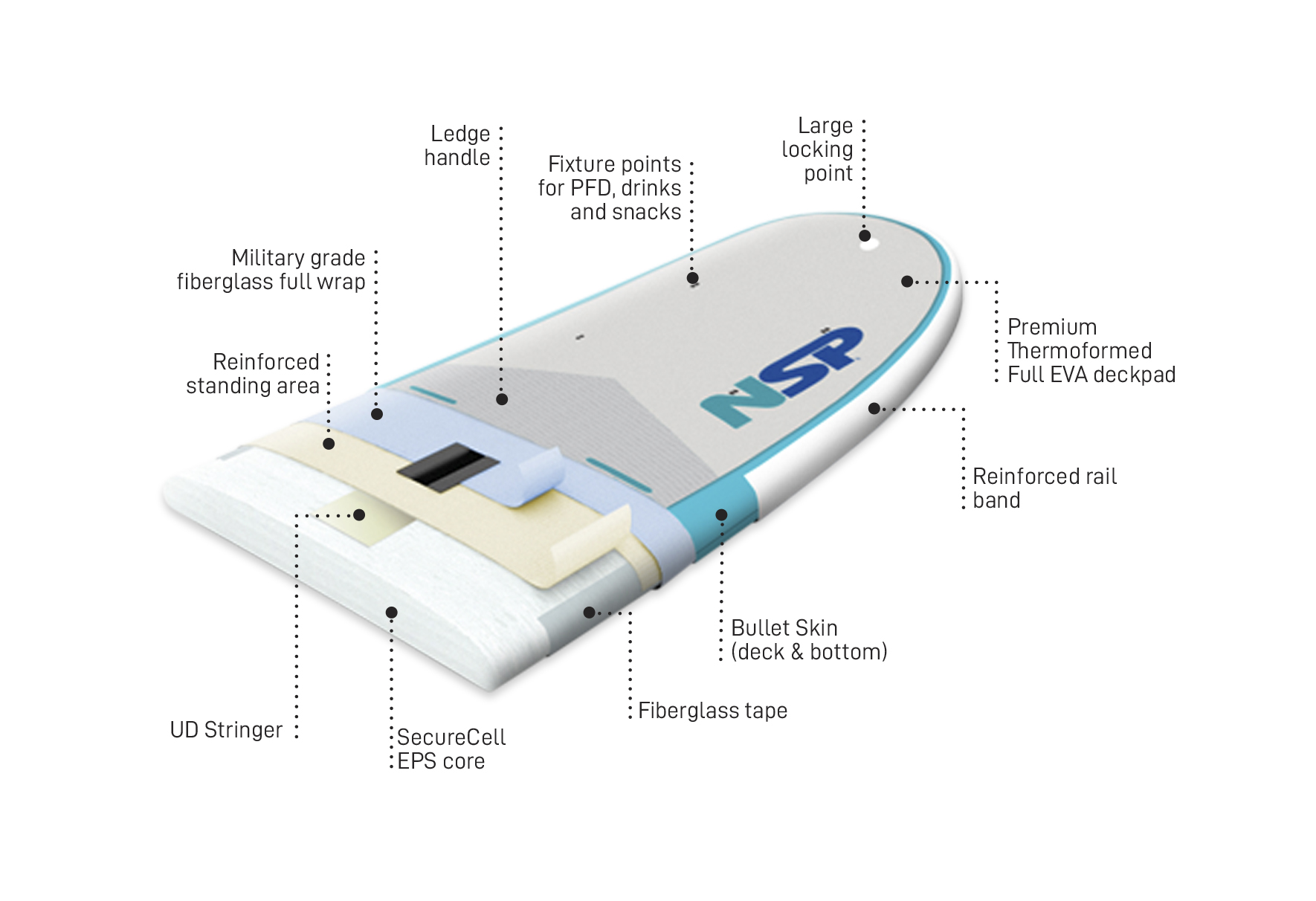 HIT board construction uses eco-friendly SecureCell EPS cores that get fully wrapped in military-grade fibreglass. Once laminated with epoxy resin, the board is capped with extremely tough "bullet skin" (styrene acrylonitrile), increasing longevity and impact resistance.

Additional reinforcement of the rail bands protects HIT boards from paddle impact and general knocks.

HIT construction also features a deck with premium thermoformed EVA over the entire length of the board. Delivering the ultimate in comfort and a ledge handle for easy carrying. Also notice the oversized locking integrated in the nose to secure your board(s) while in storage.

Additional features are the fixture points for PFD's, drinks and anything else you may need out there on the water.
P2 technology focuses on safety first and ease of teaching.

– The P2 core is NSP's SecureCell EPS, fully glassed in a durable fiber epoxy shell with eco-friendly bio-resin.

– Finished with a soft-top deck with protected rails and slick PE bottom.

– All P2 Soft boards are fitted with high end accessories for safety and ease of use.

– Rubber bumpers on nose and tail and neoprene handles for instructor board control.

– P2 series offers a proven return on investment for surf school/rental operators worldwide.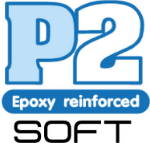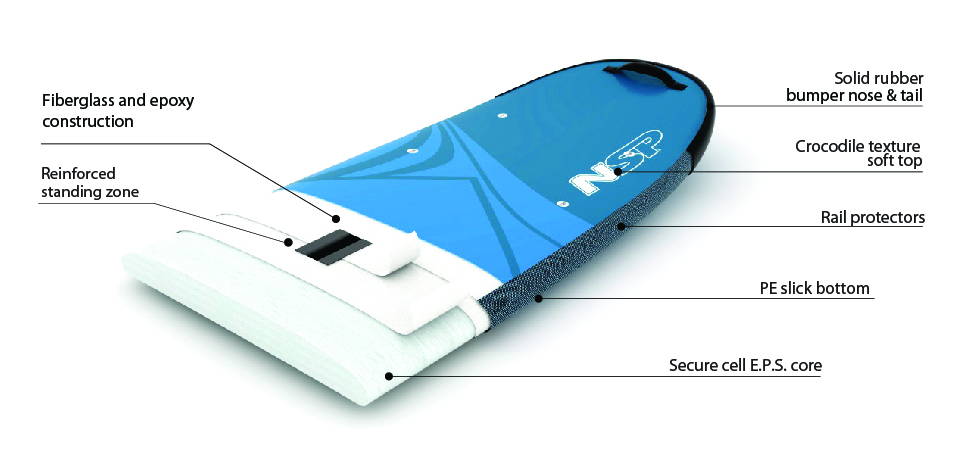 ---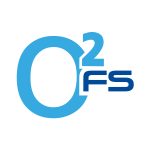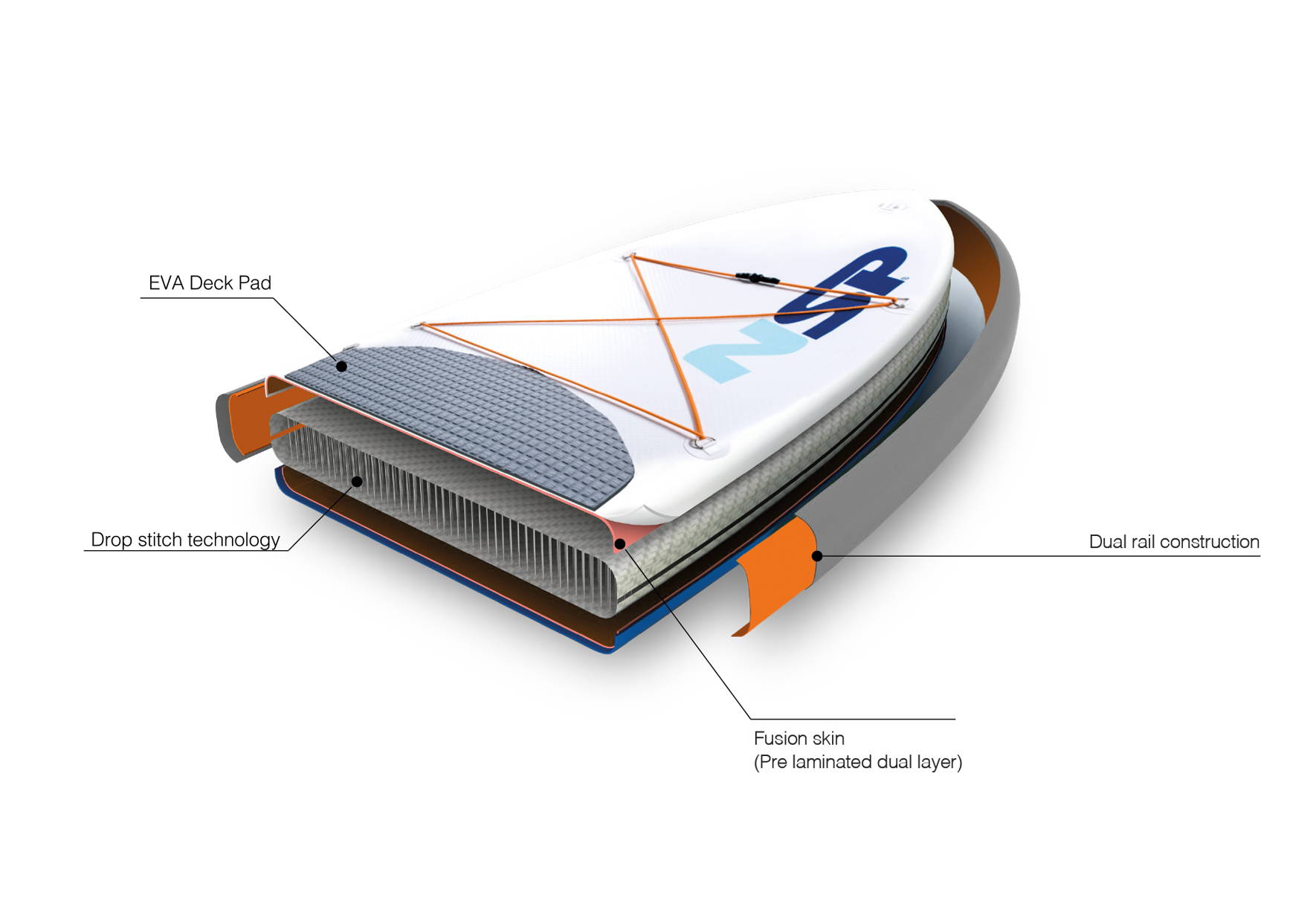 LIGHT. STIFF AND DURABLE

The NSP O² inflatable line presents a solution to a very real problem: Space, because not everyone has the available space for a full-size SUP. O² inflatables also make excellent cruisers for rivers and especially rapids, as no other board is as impact resistant as these inflatables. Focus on your journey instead of dings. The Fusion Technology (FS) series is our premium double-layered inflatable technology, built to last.

– Glueless reinforced double layer on the deck and bottom.
– Dual railbands for stiffness and durability.
– 3/4 square groove deck pad for comfort.
– D-rings on nose and tail.
LESS FLEX, STRONG AND DURABLE

The SR inflatables feature Dyneema® stringer technology to prevent the lateral flex conventional inflatables suffer from. Great value for money, SR inflatables allow you to store or carry your O² inflatable where hardboards take up too much space.
– Full-length deck and bottom stringers for flex control
– Dual rail band for stiffness and durability
– D-rings nose and tail
– 3/4 diamond groove EVA deck pad for comfort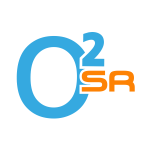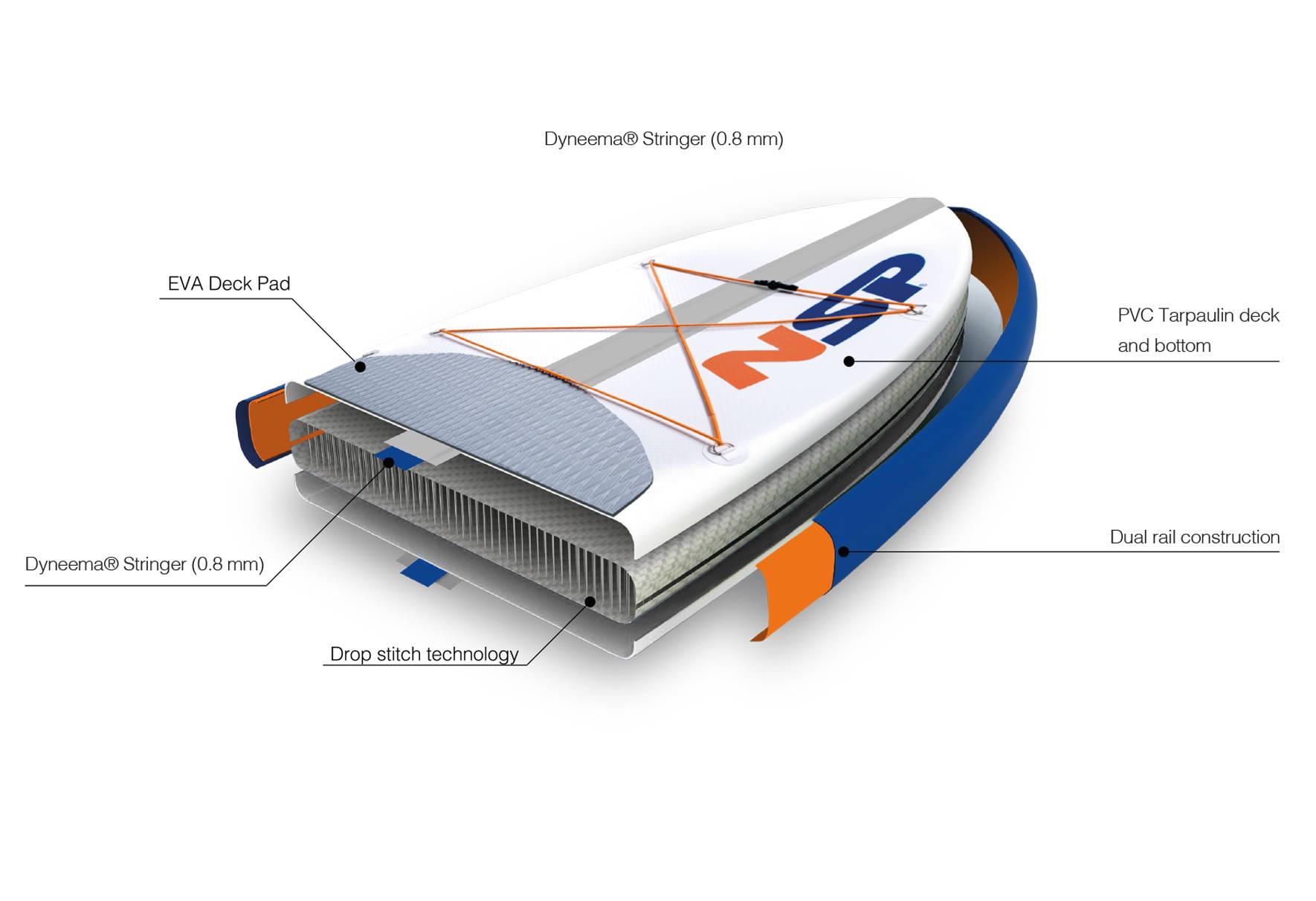 ---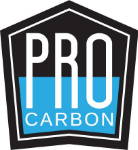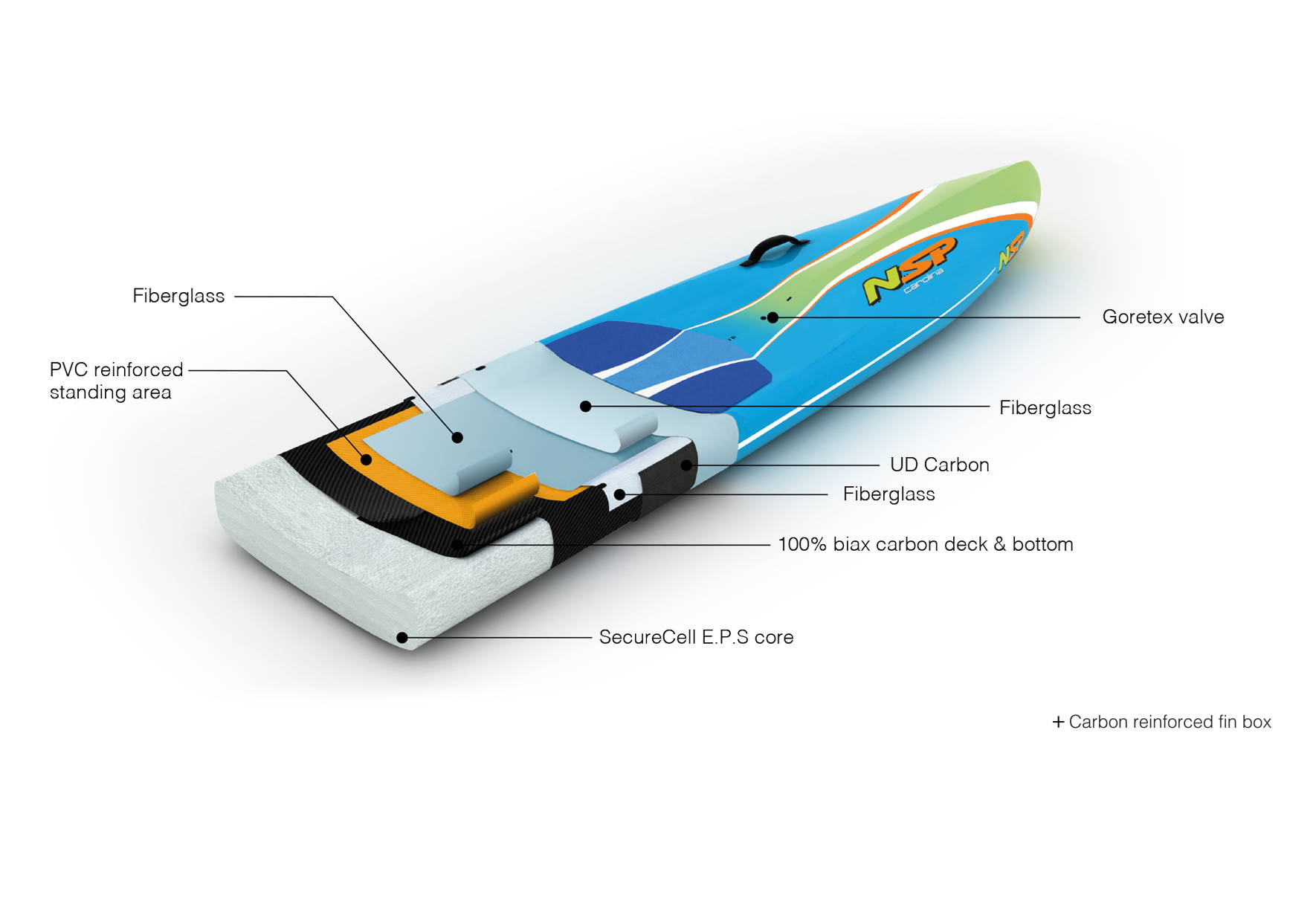 Elite Pro Carbon technology construction when winning is all that matters!

– Cutting edge aerospace carbon fibers and ultra-light core materials are combined with our unique vacuum construction, making Pro Carbon the lightest, stiffest and fastest racing construction technology available.

– Featuring a PVC reinforced deck for integrity plus carbon rails for stiffness reducing flex and making the board ultra responsive.

– Carbon Innegra reinforcement adds impact protection the nose and tail for close quarter battles at race starts and from the chasing racers in a draft train.

– Pro Carbon is an elite construction technology that is standard in our production race boards allowing you to own exactly the same boards that NSP pros Travis Grant and Titouan Puyo win on.
NSP's 2018 Carbon technology offers race-winning performance at an affordable price, combining weight and value. Discontinued, the only board in the race line-up in this configuration is the 2018 Puma.

– NSP's Carbon boards feature double wrapped carbon rails for stiffness and bamboo reinforcement is added in the standing area for increased durability.

– Vacuum moulds guarantee these boards are a 1:1 copy of NSP's race-winning designs.

– Carbon Innegra reinforcement in the nose and tail protects from paddle impact during close quarter battles, crowded buoy turns or other mishaps.