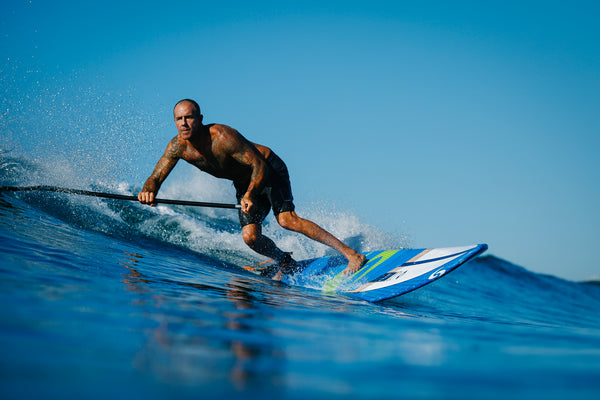 Check Out the New Surftech SUP Line for 2018!
There is a lot of fresh features to talk about in the new Surftech SUP line for 2018, rather it be the verified ECOBOARD's from Sustainable Surf, the rad prAna collaboration, deck-pads made patially of algea or even just the new high-end carbon paddles with stunning graphics. There's also plenty of exciting new shapes to try.
Clean oceans and waterways are key to our sport, and that's why Surftech is building boards with the environment in mind. We now have over 20 models across the Surftech, NSP and BARK lines that feature the ECOBOARD stamp.
"An ECOBOARD is a high-performance sustainable board. ECOBOARDS have the same technical performance attributes as any modern water-sport board, while having reduced environmental and toxic impacts – through the use of more sustainable materials and manufacturing processes." -SustainableSurf.Org
On top of that, we have also parntered with BLOOM Foams to offer deck-pads that are partially made of algae. The algae is a renewable ressource harvested from lakes and ponds at high risk of algal bloom. The filtered freshwater is then returned back into the environment. Not only the water is cleaned from excess algea but it's use in deck-pads allow us to diminish the use of petroleum based materials.
Our collaboration with prAna clothing is another interesting news for 2018. The collab cosist of 5 unique boards featuring 3 great prAna prints and colorways. We also offer up matching paddles and leashes to go with the boards. And the best part? prAna has a great collection of swimwear to match it all. Find out more here.
Photo: @debsactionphoto
As far as new shapes go, there are plenty of great offerings from Surftech, BARK and NSP.
The Surftech Air-Travel line of inflatable SUP's might be a pretty good place to start. The line consist of 9 unique boards from 10 to 14"in sought after designs, making paddle boarding portable, stylish and pleasant. They come in a backpack, making it easy to carry and store when deflated and with a double action pump and fins. All you need is to grab a paddle and go!
Feed your need for speed with the Vapor now available in Ghost Carbon. Designed by Joe Bark, in collaboration with the world's best paddlers, the Vapor brings together a progressive outline with rocker and foil to create a board that is fast, stable and serious in a variety of racing conditions. The carbon fiber finish shaves of almost 8 lbs off the previous pro-elite model and has a unique ghost fiish, showing just a glimpse of what lies beneath the surface.
Pic: @Keysten
When surf SUP is concerned, The Claw is hot and will give you endless waves. Shaped by no one else than Jeff Clark himself, The Claw is his answer to high-performance paddle surfing. With a pulled-in nose, transitioning to chimmed rails, this board can be easily be put on edge, topped with a tail to help the board stick deep carves. The deck pad is designed for maximum traction and we added a heel arch and ramp tail kick to help in big waves. It comes in a 4+1 fin set-up to add versatility in different surf conditions.
NSP also has some interesting new products for 2018, one of which is the Coco Performance Touring SUP. Available in 12'6" and 14', this touring board couple NSP progressive race shape design to a touring board. This board is designed for stability in all conditions while providing you with the glide you'll want on longer trips. The Cocomat construction offers the best strenght to weight ratio in this category of stand-up paddle boards.
Check out the new product online, or ask about it at your local Surftech/NSP dealer. Oh yeah, and don't forget to pick up new broom to go with your new board!
#TheArtOfTech