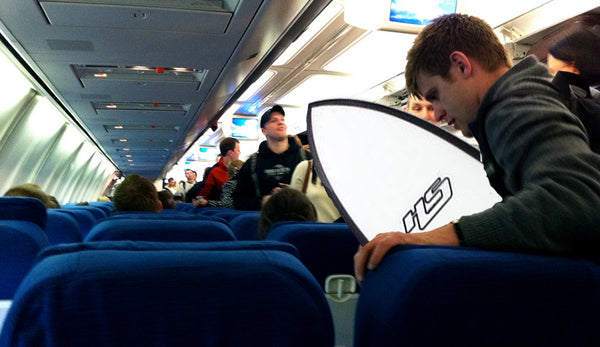 Emotional Support Surfboard? This Guy Loves his HaydenShapes Hypto Krypto (via: The Inertia)
Words and Photos provided by The Inertia
San Diego surfer Alex Kelly, 28, brought an unlikely piece of carry-on luggage on his flight from Los Angeles to Honolulu on Friday – a surfboard. Traveling on a United Airlines flight, Kelly managed to avoid paying the excess baggage fee the airline typically charges for surfboards by claiming his board was for "emotional support" and presenting United staff with a doctor's note saying as much.
"Look, people are boarding flights these days with dogs, cats, even peacocks," Kelly told The Inertia. "I figured that because surfing legitimately makes me feel better, it only makes sense that I could register my surfboard as being for emotional support."
According to Kelly, he came up with the scheme while he was out surfing one morning with a friend near Scripps Pier.
"I had a lot going on at work, but the waves were pumping and I told my friend that splitting peaks with him made all of the stresses of what the rest of the day was sure to hold just melt away," Kelly said. "We had kind of been joking about how the whole emotional support animal thing had gotten out of hand, and that's when we came up with it together. He said, 'Dude, why don't you just register your surfboard as an emotional support animal.'"
"We laughed about it then, but it got my wheels turning."
Kelly made a convincing argument to his doctor, Anthony Straud, who signed a letter explaining why Kelly should be able to board a plane with a surfboard under his arm.
"At first I thought Alex was crazy, but when he explained his reasoning I thought, 'Hell, let's leave it up to the airline.'"
It's no secret that airlines have instituted exorbitant fees for transporting surfboards over the years. At the same time, more and more passengers are traveling with emotional support animals leading some to suggest travelers are abusing the system.
For Kelly's part, in his mind, he simply recognized a loophole and took advantage of it.
"Look, my board brings me joy. And if they're going to continue to charge me for putting it in a bag and checking it, then I'll keep taking it with me," he said.
To Find your Emotional Support HaydenShapes CLICK HERE