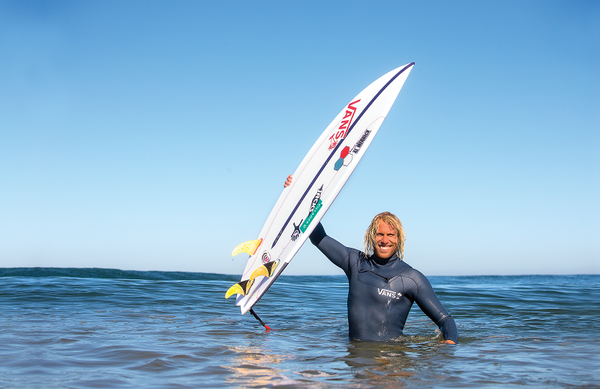 Fusion Dual-Core Technology
Surfboard technology has been a constant struggle to find the traditional benefits of a PU (Polyurethane) blank with the lightweight feel and responsiveness of a EPS (Expanded Polystyrene) blank. PU surfboards are popular for their dampening effect on textured surfaces, however, overtime the foam can lose its flex and "liveliness". While EPS keeps its flex and life, some surfers note that it can feel "Chattery" or Corky" especially on windy days when the water surface is not ideal.
For years surfers have had to choose between the 2, weighing out their Pros and Cons. "You can't have your cake and eat it too". Here at Surftech, we disagree. The Dual-Core technology has been implemented in Surftech's models as well as other world class shapers and the overwhelming approval is a telltale sign that we've changed the game.

What is Fusion Dual-Core?
Fusion Dual-Core is a patented technology that implements EPS through the center of the board that increases buoyancy which adds paddle power. PU on the rails helps absorb vibrations, allows you to dig the rail deeper and helps with rail hold in and out of tight turns. Surftech has been building boards utilizing these two different foams in one blank for years, but after testing and perfecting we focussed on how these two foams are bonded together. Thermoplastic Polyurethane, TPU, is sandwiched between the EPS and PU to create the perfect combination of materials and maximize the rebound and the dampening at mach speeds. TPU has a high abrasion resistance, high shear strength, and most importantly high elasticity.
How does this translate into the "Feel" while surfing?
The most common response that we receive is that it "is the best of both worlds". Meaning that you have the speed, responsiveness, and pop of a EPS surfboard with the stability and natural feel of a PU surfboard. The Fusion Dual-Core eliminates the "Corky" feel of a standard EPS which provides the surfer with a more stable and natural feel while on the wave, especially at higher speeds. You will no longer need to decide between using an EPS or PU board, because the Fusion Dual-Core will excel in all conditions.
What models is Fusion Dual-Core offered in?
Surftech Pantera
Channel Islands Rocket 9
Channel Islands Twin Fin
Channel Islands Code
Channel Islands Mini
Sharpeye Disco Inferno
Sharpeye Modern 2