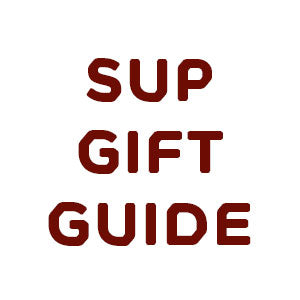 Gift the perfect stand up paddleboard this holiday season.
Are you looking to give the best gift ever this holiday season? Let us help you make that process a little easier with our SUP gift guide.
The CATALYST / Tuflite V-Tech is Surftech's top-of-the-line, award-winning, all-around paddler. Rated gear of the year by backcountry magazine The Catalyst is a user favorite any paddler will be impressed with. Joe BARK shaped the Catalyst for flat-water cruising plus it still performs in small to medium surf. The prAna collaboration utilizes a print from the 2020 swim collection that looks great and is appealing to everyone that gets on it. Utilizing quality fiberglass, EPS, Greenpoxy resin (plant based epoxy system), and Surftech molding methods we achieved a very durable and lightweight board. The Catalyst is included with 4 deck tie downs, ledge handle, rear padded handle, and 3/4 deckpad.
https://surftech.com/prana-catalyst-tuflite-v-tech...
The Jetsetter / Tuflite V-Tech board bridges the gap from recreation paddling to adventure touring with one unique shape. This hybrid design combines a displacement hull with a planing hull to create a board that is exceptionally stable, yet still has the drive. Designed for both the enthusiast who wants to go for a casual paddle or the paddler that wants stability for more activities. Pura Vida collaboration graphics and an amazing price point make the Jetsetter the perfect gift.
https://surftech.com/pura-vida-jetsetter-tuflite-v...
The SLX DC Surf X is built to shred. A designated Surf SUP, the SLX has an increased nose and tail rocker and a pulled in nose and tail. The resulting maneuverability is perfect for riding waves and quick directional changes. Gift this shred stick and the surf supper in your life will be thanking you after every wave.
https://surftech.com/nsp-slx-dc-surf-x-2020/
For the SUP racer in your life we recommend the brand new Carolina. It excels in all conditions (beach starts, downwind sections, flat-water sections, surf, headwinds, side-winds and gnarly currents). The design builds on key features of the Sonic, our best downwind board to date (look into the video below for a detailed explanation by Titouan). A reduced rocker line translates into additional efficiency in flatter conditions. With peak performance on flat water, but with a degree of texture, the Carolina is a winning choice for 90% of all racing conditions mother nature can throw at you.
https://surftech.com/nsp-race-carolina-pro-carbon-...
For the entry-level or space-conscious paddler, you can't go wrong with Surftech's Air-Travel inflatable construction. New for 2021, The Monarch Air-Travel was designed for any age, level, and type of paddler, providing the best option for recreational and touring adventures. The Monarch board combines progressive outlines for speed and stability, deck tie-downs, thermal formed deck pad, and Pura Vida collab graphic for the ultimate all-around board.
https://surftech.com/pura-vida-monarch-air-travel/
The NSPirator Mat is the perfect gift for the fitness freak in your family. The NSPirator makes it easy to complete you next fitness or yoga workout in the pool, lake or sea. Built to the perfect size to fit in a swimming pool. While not technically a paddler the NSPirator is perfect for paddlers looking to stay fit on days they can't hop on a sup.