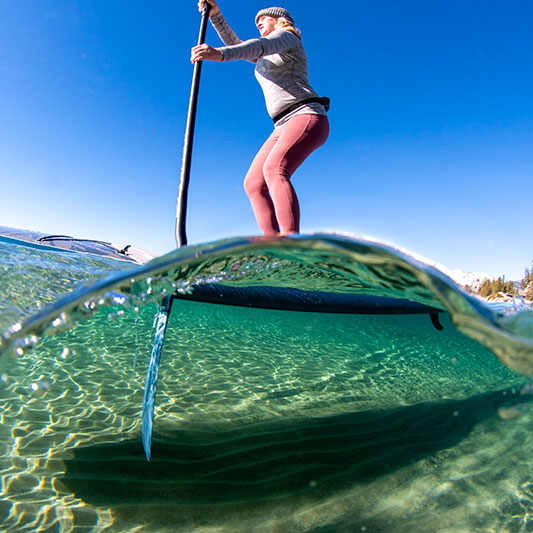 Places to Paddle: SUP Lake Tahoe in Winter
While we don't believe in blowing up the spot, we know getting out somewhere new can be intimidating. For that reason, we've put together a series of guides detailing our favorite places to stand up paddleboard. No secret spots were named, don't worry. But our helpful hints should make your next trip a little safer and more accessible. Chances are you won't show up looking like a local with a lifetime of experience at a spot after reading our guides, that kinda expertise can only be earned with time. You may avoid a costly and embarrassing parking ticket though. Ultimately, we believe the best part of paddle boarding is the sense of adventure and the new experiences every day on the water brings. Our goal is to foster the confidence needed to chase those new experiences. Hopefully, our humble suggestions will get you out and paddling in new areas. And if you do get out on your own adventure, drop us line @surftechUSA or tag #PlaceToPaddle.
Stand Up Paddle Boarding (SUP) Lake Tahoe in Winter
While the masses are lapping the lifts at the ski resort or crashing into each other on sleds along the Mt Rose Highway, Lake Tahoe sits relatively empty during the winter months. On these days, one of the biggest obstacles of paddling the lake in summer, the parking, is completely removed. And on the right day, the water can stay flat and glassy until mid-afternoon. The lack of boats means no wakes, providing an even smoother paddling experience and undisturbed crystal clear water. Are you starting to understand what makes stand up paddling on Lake Tahoe in the winter so special?
Best spots to launch:
There is no better place to start your paddle than Sand Harbor. A large parking lot and empty sand beach that fill up with crowds before sunrise in the summer months sit empty in the winter. A small daily fee for parking is charged, or Nevada residents can purchase an annual pass. Pull right into a front-row spot along the beach, set up your gear next to your car, and walk the 100 yards across the flat Sandy Beach to the water. Pro-tip, a big plus of launching at Sand Harbor is the heated bathroom in the nearby gift shop. You won't find a more convenient place to start a paddle on Lake Tahoe in the winter. As well as being convenient, starting a paddle at the gently sloping sand bottom and wind-protected cove
Sample trip itineraries:
-Stay close and explore the clear sandy shallows of the harbor. This is a safe, fun, and beautiful way to enjoy the lake. There is plenty of paddling to be done in waste deep water and staying in the protection of the harbor will provide smooth wind-protected water for easy paddling.
-Sand Harbor to Secret Beach is a pleasant 4-mile paddle out and back. As with most paddles on the lake it is best to stay close to shore where you can enjoy the view of sand and rocks beneath the clear water; along the way, you will find tons of small rock outcroppings to explore. The 2 miles to Secret Beach is perfect for novice paddlers and can be done by most people with average physical fitness. Be sure to pack a snack and enjoy a nice long rest once you arrive at Secret beach. There are plenty of great places to sunbath or warm up after an icy dip in the 40-degree water of the lake. For a better paddle experience, try to plan your return trip around the wind. An afternoon north wind will significantly increase the amount of work needed to paddle back to Sand Harbor.
-Head north to Hidden Beach past the summer boat ramp and just in view of the new walking path for 2 miles to a protected patch of sand perfect for sitting and taking in views of the west shore. Along the way you will hug the shore under steep pine and granite hillsides. Incline peak and Rose Knob loom tall in the distance with their snow-capped peaks. At only 4 miles round trip this paddle is another very achievable trip for all.
Best conditions:
Mornings tend to provide calmer conditions with light to no wind until midday. Of course, paddling in the winter means paying particular attention to the weather. We highly recommend planning your paddle on a warm day when nice consistent high pressure has set in. Temperatures with highs in the 50s and a light breeze under 10mph from the east make great conditions. Beware of incoming storms as that can cause high winds and dangerous conditions.
What to watch out for:
Falling into an icy lake is not only unpleasant but can also be extremely dangerous, especially when clothed in heavy gear. Please always wear, and know how to use your personal floatation devices and follow all boating rules for SUP. Maybe even consider wearing a wetsuit, being able to jump in the water and stay warm ads a whole level of fun to paddling Lake Tahoe in winter. Another sneaky thing to watch out for is ice in the parking lot. Slipping while holding a SUP hurts – trust us. And again the weather. Always have an idea of the weather forecast. Paddling when the weather is nice will be more enjoyable and safer. Winds can potentially blow you out into the lake making for a dangerous situation.
Suggested boards:
Hands down the best board for paddling on Lake Tahoe in Winter is the Catalyst from Surftech. A wide and stable all-around adventure board, the Catalyst paddles fast across open water and is easy enough to paddle that even beginners will love it. Any of Surftech Air-Travel inflatable SUPs will work great for paddling on Lake Tahoe as well and have the added bonus of packing nicely into the trunk of any car.
A final note:
We hope you find this spot report helpful. Please do as much additional research as possible before heading out into the water. If you get out and enjoy this paddle tag us on instagram @surftechUSA and #placestoPaddle