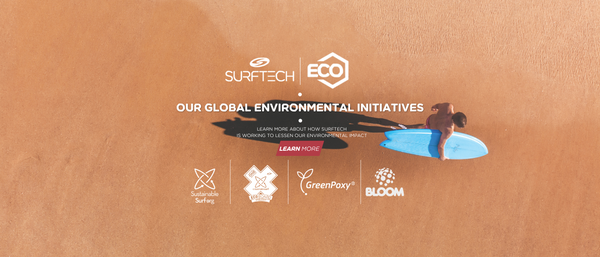 Surftech's Global Environmental Initiatives
We are building boards with the environment in mind. Recognizing that we have a duty to continually strive to lessen our environmental impact and to be transparently accountable for our business operations is our driving force.
All manufacturing has an effect on the environment, and we do everything we can to reduce that impact. Investing in machinery, alternative material research, and more efficient product logistics has had a positive impact on our production and the environment; state-of-the-art machinery has reduced waste, improved quality, and increased safety.
Molded Sandwich Constructions
While being stronger and lighter our molded construction boards, see Tuflite, also create less waste in the production process. The traditional board building process involves a great deal of trimming and tossing. With molded construction only the materials needed for the final product are used.  
Sustainable Surf x ECOboard project
We are proud to partner with Sustainablesurf.org to deliver ECOboards on select models and constructions. An ECOBOARD is a high-performance sustainable board. ECOBOARDS have the same technical performance attributes as any modern water-sport board, while having reduced environmental and toxic impacts – through the use of more sustainable materials and manufacturing processes.
Bloom Foam
Thanks to Bloom we've introduce algae-based sustainable materials into traction pads on select products. Bloom's algae technology is a great way to solve emerging problems with pollution in our environment.
GreenPoxy
Transitioning toward a bio based solution and away from petroleum products we have introduced the use of GreenPoxy bio resins on many of our products.