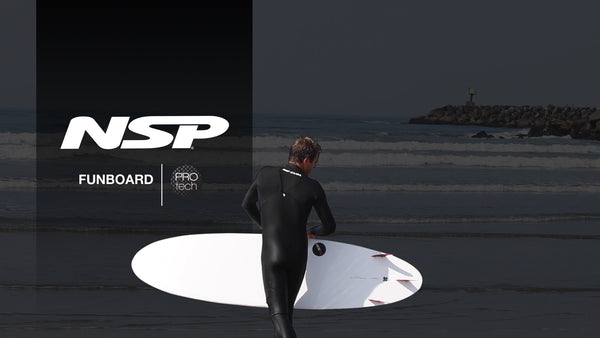 The NSP Protech Funboard
WATCH the Protech Funboard in Action
The NSP Protech Funboard
Available in 6'8" // 7'2" // 7'6"
Designed for the weekend warrior. The NSP Funboard paddles easily and catches waves early; getting you up and riding more often. The NSP Funboard the name says it all.
– A stunning combination of fantastic value, durability and performance. The Funboard is one of the most popular in the NSP range for progressing skills.
– Semi-rounded nose with low entry rocker design puts more volume up front to give more paddle power to catch waves early and easily.
– Domed deck profile allows a forgiving but sensitive rail feel, while the pulled in, rounded pintail is providing control to bottom turns and cutbacks.
– Concave bottom creates a fast water transition through to the tail – providing balance and control in a range of conditions.
– The tri-fin thruster setup guarantees speed and liveliness, with enough hold to ride out your line.