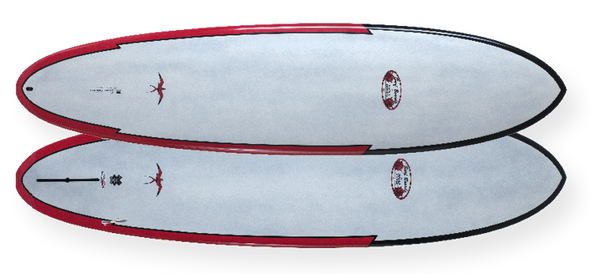 The Takayama Egg and Scorpion II: Available in Softop and Tuflite Technology
If you don't have at least one of these boards in your quiver, than you're doing yourself a complete disservice. The Takayama Egg and the Takayam Scorpion II are the perfect "Change-of-Pace" surfboards for your average surf. Their fun templates and forgiving volume make your sessions infinetly more enjoyable no matter your skill level or size. Learn more about the Takayama Egg and the Takayama Scorpion II below.
The Takayama Egg
If you're not quite ready to "rip and shred" on a short board, nor are you apt to "cruise" on a long board, then the Hawaiian Pro Designs Egg is the perfect solution. This model is an "eggy" looking shape that allows the rider to trim high on the wave in the middle of the board or race down the line on the tail, whichever the rider prefers. The perfect board for beginner to advanced.
Donald Takayama's legacy is a combination of the worlds best boards, best surfers and best waves, making his boards some of the most sought after in the entire surfing world. Donald Takayama was famous for his progressive designs that combined both traditional and high performance aspects into every board he made. The result was the best surfers sought out his boards to bring their surfing to the next level. Donald Takayama and Surftech worked together for over 20 years before his passing. The relationship was built on trust and a commitment to produce quality product that would compliment the designs he so passionately created. It is an honor for Surftech to perpetuate Donald's legacy by continuing to build the most iconic and proven designs.
The Takayama Egg Tuflite
The Takayama Egg Performance Softop
The Takayama Scorpion II
Donald wanted to make a wider tail, narrower nose and more rounded out version of the popular Scorpion for his friends on the south shore of Oahu. This wide tail volume allows the surfer to go a little shorter in board length if they prefer and allows for multiple fins combinations (single, 2+1 or quad setups). This board excels in small California style surf to well overhead island style barrels. Very fast paddler with easy tail control, this is a must have in every surf quiver!
The Takayama Scorpion II Tuflite
The Takayama Scorpion II Performance Softop