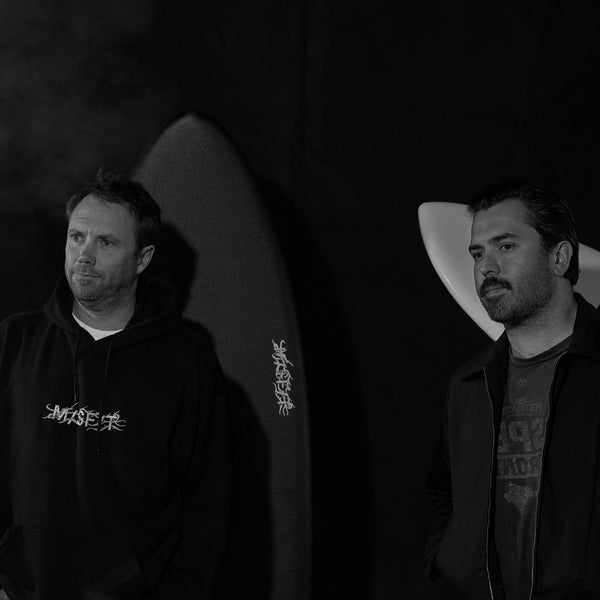 M/SF/T Q&A: Origin Stories and Reasons for Being with Chris Chong and Dave Howell
The Australian duo behind the irreverent surfboard brand/ family of creative enthusiasts talk surf.
Who are you, where are you located?
Chris Chong and Dave Howell of MISFIT SHAPES. We are based between the Northern Beaches of Sydney and the Northern Rivers of NSW.
What makes Misfit unique in the world of surf brand normalcy?
Let us refer you to our company mantra shall we - "Misfit Shapes represents an authentic response to an era of change, a 'surf' stemmed movement that allows art, design and individuality to co-exist within a realm more commonly dominated by conformity and observation. We are not bound by a single leader or manifesto, but rather a bold commitment to pushing the limits of this well-oiled machinery of surf. The result is a rare collective of mildly deranged but high-powered misfits, potentially dangerous cultural agitators, and just about every other kind of MAD MIND."
How did you guys decide to partner up?
The time just felt right... we'd been concepting a greater release of the brand for a few years, we believed there was a gap in the market for what we were hoping to do, so in late 2009 we had to take the leap of faith and go all in..
How have you put your team together?
It's all relationship based. We can honestly say we've never signed or aligned with anyone we didn't know, support or believe in. This is a big family, so we are protective of the dynamic and culture within the fold.
While of course you are interested in making great surfboards, it seems like as a company, you have a lot of other interests? Art, Fashion, etc.
Yeah, the core of this biz is surfboards, that will never change, but our interests, and subsequently what we produce is far greater. We love art; from high design to wild lo-fi graphics, and we believe that surfboards, clothing should be an expression of one's creative interests, not just a vessel to get tubbed on or a tee to cover your nips..
What is the best thing that has come out starting Misfit for you to personally?
The people. We love the products we make, you won't anyone more passionate about what they produce, but the people that we have met, be it from our loyal customers that order our boards, to the media, retailers, industry we are a part of. Our lives are far richer as a result of the relationships we have formed along the way.
Do you think surfboards will make you rich? Or are you already rich because you spend everyday working in an industry you love?
I don't think you go into the surfboard biz to become rich, you do it because you have a passion for board building. For me, being a shaper is about the challenge to find the perfect balance between speed and maneuverability, performance and fun, and the millions variables that surfboard design has in it. If that makes you rich along the way, then power to you, we just want to stay passionate, excited and satisfied with what we do...
If you could put anything on the bottom of a surfboard what would it be?
Are we referring to fin configuration, or concave, or artwork? If fins; we are still loving twins, but all setups have their day, if concave and curve; then it's designing the perfect balance, if it's art; then something big, bold and irreverent!
What's next for surfboards and surfing?
It appears that the movement of artificial waves is growing, and although that can feel a touch "artificial" or impure, it is exciting because there is an element of design that does want to work with more controlled variables. Testing and development can become a more efficient process when you're surfing the same wave over and over again. The differences in the water (salt vs chlorine) and the wave itself, is also an exciting space for development of new shapes and constructions.
Is it the surfer, the board or the wave?
Yeah, good question... I want to give you some philosophical answer about our own expectations and perspective on finding enjoyment in surfing, but it's simply about all three elements right... I'm yet to see anyone surf without a board or waves, but boards and waves dont ride themselves. I will say this, good boards, or the right board for the conditions is king, but a perfect wave can be ridden on almost anything, so maybe it is about the individual after all?! Ha, who knows, I've got myself confused now...