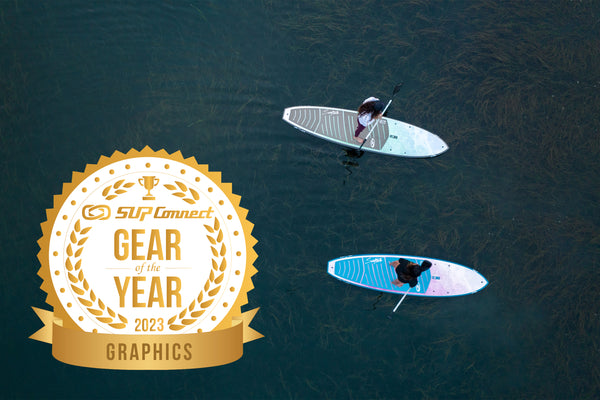 The Chameleon's Striking Design Win 2023 Gear of the Year Graphics Award
In the world of stand-up paddleboarding, the spotlight often shines on performance, technology, and functionality. But there's another crucial aspect that sometimes gets overlooked – the beauty of the boards themselves. It's about the artistry that goes into the graphics and construction, creating a visual allure that can be as captivating as the paddling experience itself. In recognition of this often-underappreciated facet of the sport, SUP Connect presents the Gear of the Year Graphics Award, an honor that celebrates boards that are not just vessels for adventure but works of art.
For 2023, it's no surprise that the Chameleon from Surftech emerged as the winner in this category. Other than it's visual appeal, the Chameleon bridges the gap from recreation paddling to adventure touring with one unique shape. This redesigned hybrid combines a displacement nose with a flotation hull to create a board that is exceptionally stable, yet still has the drive. Designed for the enthusiast who wants to do more than just go for a casual paddle. Congratulations to all the other brands and thank you to SUPConnect for choosing Surftech for the Gear of the Year Graphic Award! Read the full SUPConnect Awards announcements here.