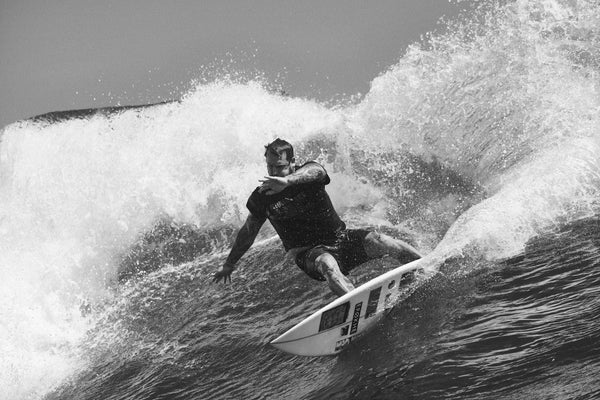 WATCH: M/SF/T's Newest Tech // Primitek
Australian surfboard brand M/SF/T is known for their high-performance shapes, edgy art style, and just overall good vibes. Stepping away from the Softworks line of surfboards, M/SF/T and Surftech product development teams have created a new EPS surfboard technology named Primitek. By keeping the construction simple we've found our boards built in Primitek perform as an extension of surfers' instincts. Intuitively connecting your imagination and ability in a creative collision of a primal past and an ethereal future, Primitek is the blank slate and firm foundation for you to build your masterpiece.
Primitek launches with 5 models. A few returning names, such as the Dope Machine and Beach Cloud, are now available in both Softworks and Primitek. We've also introduced 2 new models to the line, the Yandina Speedway, and Fungzetti.
Sit back, relax, and watch pro's like Mitch Coleburn showcase the line of the newest community favorite, Primitek. 
The Beach Cloud
If you live your life in a haze of nostalgia, always searching for that electricity of times past, the Beach Cloud is for you. As the name suggests, it has the same gaseous qualities as early evening Chanel perfume, late-night sea fog, and loud sneezes at dusk. Like traditional twinnys, the board has a fuller nose and outline but is curvier in the tail, especially behind the fins. This board is designed with modern surfy surf in mind. It has other more contemporary elements in rail shape, rocker, and foil, but stays true to the speed, flow, and highline attributes of the classic twin fin approach. With an overall design emphasis on free-flowing progression, the Beach Cloud is a modern take on the classic twin fin feel that channels the past as you remember it – which is probably better than it actually was.
The Fungzetti
The Fungzetti is high-end European luxury supercar energy manifest in surfboard form. The plan-shape inspiration came from Misfit's previous team favorites. Mitch Coleborn, a surfer's surfer who defined a generation with aggressive free surfing and game-changing appearances in surf films like Modern Collective, Cluster, BS! and Stranger Than Fiction, spent years fine-tuning those boards into a pro model that accentuates his surfing style. One of the most notable changes is the distribution of or disguising of foam. Mitch wanted the board to maintain volume without a full or boxy rail. So, Misfit blended the volume modern surfers are accustomed to with sensitive or hyper-responsive rails, resulting in a more domed deck than any of Misfits shortboards.
Yandina Speedway
OG M/SF/T family JAKE VINCENT's signature model, the Yandina Speedway is Queensland engine culture and hellman spirit all packaged into one muscly beast of a surfboard. For those who desire to surf like Vin; animated, untamed, progressive, and unpredictable look no further than the Yandina Speedway. The model bears a lot of similarities to Vin's previous chariots of choice, with a similar wide nose and tail that draw the rail line out, making it more parallel to create maximum speed + drive. Lismore levels of speed + lift are also derived from a quad channel bottom which projects water out the tail. The tail also harnesses another previously proven element, the domed swallow, which in short, promotes speed and release, while maintaining control, especially in a reversed position.
Neo Speed Egg Twin
Similar to other eggs, but the Neo Speed Egg is a bit smaller, a bit nastier, and she loves Gaga – confidence and fun exude from this wild child. The Neo Speed Egg is an all-round design with a relaxed entry rocker for ease of paddle plus a slight lift and a snubbed off nose to reduce catching in critical parts of the wave. The clean "eggy" outline has an accented forward placed wide point for effortless paddle and trim. The diamond tail provides fluidity and control, while the points of the diamond accent the rail line, giving it more drive when combined with the twin fi n configuration. Effortless release and masses of speed are guaranteed. The bottom shape is the same subtle roll vee to double vee combination, which paired with the twin fi n, diamond tail + shortening of overall length, create an even livelier all-rounder that flows, glides, and positions in a wide range of locations and conditions. This board suits your transitioning surfer, through to your experienced short/ small board rider that wants a fast, flowing, dynamic mid-length. This spicy little board will have you feeling naughty with every wave.