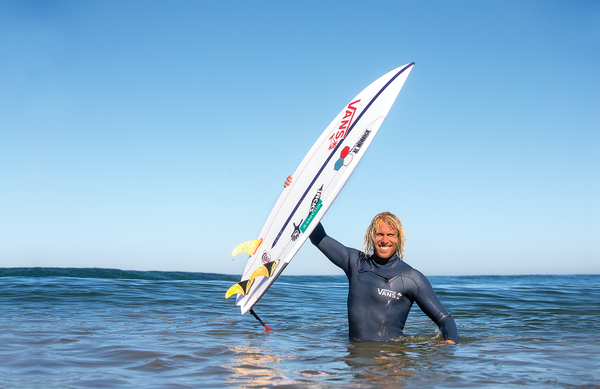 Fusion Dual-Core, Proven by the best.
Surftech's latest creations are now available for purchase at shop's across the country with brands like SharpEye and Channel Islands using the technology across multiple shapes ranging from grovelers to high performance shortboards.
The PU vs. EPS debate is no longer. Our innovative Fusion Dual-Core technology just made your search for the perfect wave weapon an easy one. Never in the history of board building has there been a better marriage of materials than the Fusion Dual-Core lineup of boards. Surftech has blended PU foam and EPS foam to enhance the advantages of these two materials by fusing them together with an ALL-NEW material (TPU), which adds performance and a reflex pattern with an incredible ability to transfer the energy of your turns to the fins. At Surftech we pride ourselves on "Shaping The Art of Technology" by using the most advanced materials and manufacturing techniques available.
The Breakdown: Fusion Dual-Core offers the best of Polyurethane Foam (PU) and Expanded Polystyrene Foam (EPS). EPS through the center of the board increases buoyancy which adds paddle power which increases wave count and aides in speed generation on the wave. PU on the rails helps absorb vibrations, allows you to dig the rail deeper and helps with rail hold in and out of tight turns. Surftech has been building boards utilizing these two different foams in one blank for years, but after testing and perfecting we focussed on how these two foams are bonded together. Thermoplastic Polyurethane, TPU, is sandwiched between the EPS and PU to create the perfect combination of materials and maximize the rebound and the dampening at mach speeds. TPU has a high abrasion resistance, high shear strength, and most importantly high elasticity. On top of the ALL-NEW fresh tech in the multi-density foam core, the blanks also utilizes a stringer-less technology with added carbon down the deck and hull of the board, as well as carbon tail patches for break strength, response, and control. This is the apex of combining science and style, and we couldn't be more excited to bring it to the world.