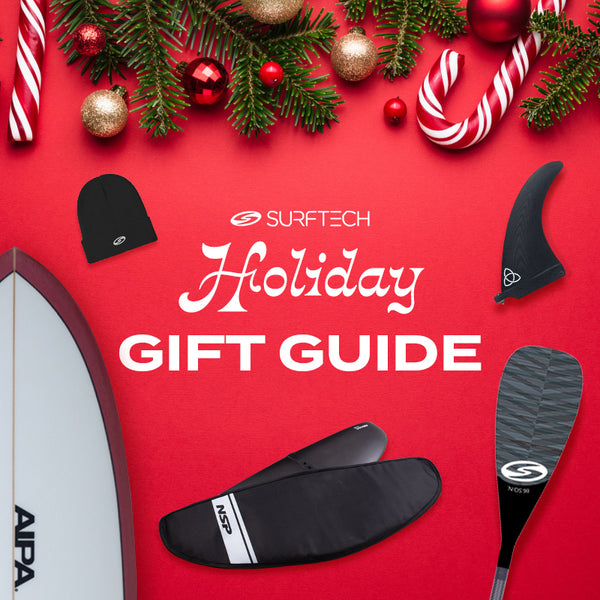 Holiday Gift Guide
From beginner surfers to the one who has everything, casual paddleboarders to the distance paddlers, we've got the perfect gift options for the upcoming Holidays.
For the Surf Lovers:
AIPA - Wrecking Ball
New for 2022 and already a crowd favorite, the Wrecking Ball by Duke Aipa excels in small to medium-sized surf. A full nose and broad outline in the front half of the board meet an unmistakable Aipa wing near the back third of the board, where the outline curves in a tight radius until it hits a multi-pronged experimental tail. The Wrecking Ball will replace your whole quiver in the best way. Starting at $697.50. Shop the Wrecking Ball
Walden - Magic Model
With an emphasis on performance, the Magic Model is one of the most popular, user-friendly longboard models in the world. The Magic rocker, Magic rails, and the Magic hull is very unique to Walden Surfboards, the front 1/2 of the hull is concave, this single concave transitions into a double concave in the rear and the back 1/3 transitions into a moderate "V". The concave nose adds lift and stability, perfect for noseriding. The Magic model is a great option for beginner to expert surfers. Every size of the Magic Model in Tuflite features an exclusive colorway! Starting at $878.75. Shop the Magic Model in Tuflite
---
For Those Who Like to Paddle Places:
Surftech - High Seas
Highlighted by our advanced drop stitch technology "Air-Travel", the High Seas is the ultimate compact-inflatable paddleboard. Designed to go wherever you do, the High Seas is an inflatable paddleboard that fits nicely into our Surftech Air-Travel Backpack. The perfect gift for the traveler in your life. Starting at $546.00. Shop the High Seas
NSP - Cruiser HIT
The most family-friendly SUP around, the Cruiser HIT utilizes NSP's High-Impact Technology (HIT) to provide extreme durability for recreational use. To develop the Cruiser, NSP worked on a proven shape from the successful Elements range and improved the outline, rail, and bottom shapes for a better glide over flat water. This directly affects the all-around paddling performance for everyday use but with some key design characteristics. The Cruiser HIT is the perfect gift for the whole family. Starting at $777.75. Shop the NSP Cruiser HIT
---
Accessories and Stocking Stuffers
Surfboard and Paddleboard Fins
No board is complete without a set of fins and a leash. We've got some of the best fins on the market from NVS and NSP to complete your holiday shopping. Fins starting at $18.00
Check out our fin selection, Shop Now.
Paddles
Paddleboarders can't go far without a paddle, unfortunately these might be a little to big to fit in a stocking…Starting at a great price point of $53.00.
---
Happy Holidays!
-Surftech
---