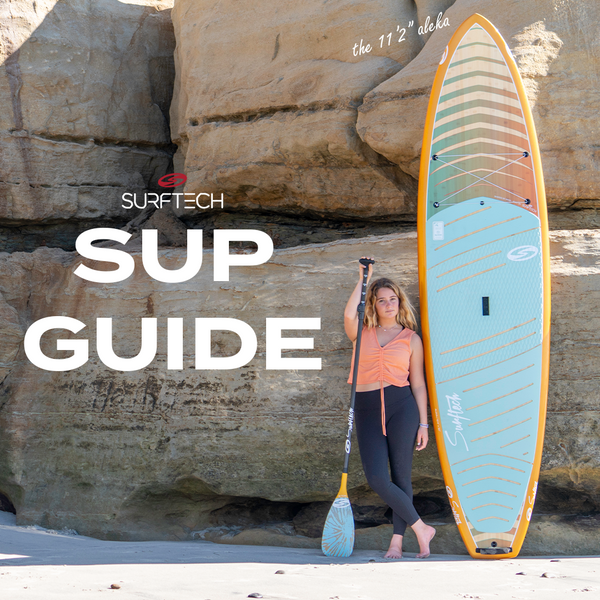 SUP Buyers Guide
Looking to start Stand-Up Paddleboarding but not sure where to start? Look no further, our SUP Buyers Guide is here to point you in the right direction.
Every SUP (Stand-Up Paddleboard) is designed for a specific use or location. There are several different types of SUP designs, from multi-use allrounders, long-distance race boards, and even surf focused models. This guide runs through our most proven models for each category. Check in soon for a full "How to choose your next stand-up paddleboard" where we'll run through the more difficult aspects you may be wondering like what length, thickness, width, volume and construction may be best for you.
Allrounders:
| Chameleon |
The SUPconnect award winning Chameleon, our lightest all-use paddleboard at approximately 22-24 Ibs depending on the size. This board bridges the gap between recreation paddling and adventure touring. This redesigned hybrid combines a displacement nose with a flotation hull to create a board that is exceptionally stable, yet still has the drive. Designed for the enthusiast who wants to do more than just go for a casual paddle. Available in both 10'4" and 11'4".
| Generator |
Our second SUPconnect award winner, the Generator. Constructed in both Tuflite V-Tech (photoed) and C-Tech, the Generator is the ultimate shape for versatility and maneuvering in small to medium surf, while also providing good stability and glide in flat-water. Great for beginners or the more experienced stand up paddle boarder who is looking to get the most out of all SUP styles.
Touring Boards:
| Catalyst |
The Catalyst is the perfect board for the whole family. Joe BARK shaped the Catalyst for flat-water cruising plus it still performs well in small to medium surf. Designed off the same DNA as the Chameleon and Aleka, the Catalyst features a fuller outline than the others to ensure you can go the distance.
| Promenade |
The ultimate go-anywhere, do-anything board, the Promenade is favored in rental schools everywhere due to its ease of use and extreme durability from our Utility Armor construction. This SUP features larger volume, and full rails which gives a stable platform to paddle with ease in flat-water and chop. Did we mention it comes included with its own matching paddle?
Inflatables
| High Seas |
You guessed it, another SUPconnect award winner! The High Seas is designed to fit in the Allrounder category, but offers the convenience and lightness of an inflatable. Nicknamed "Air Travel" our inflatable boards include a roller backpack, dual-action air pump, patch kit, and 9" fin with a keyless screw.
| Hercules |
Our premiere SUP/Kayak combo, the Hercules is the perfect family cruiser. At 13'1", the Hercules can be used to not only tandem SUP but with the addition of front and rear seats (included) can be turned into a fast and stable kayak. Pair it with our Tow-Pro to eliminate the need for multiple runs.
SUP Surf:
| DC Surf Wide |
The DC Surf Wide is the next evolution of NSP's popular DC Surf Wide range. This newly shaped DC Surf Wide is built with NSP's Patent-Pending and award-winning CocoFlax technology, incorporating flax fibers on the rail sections and the entire construction is bonded with Greenpoxy® bio-resin.
| DC Surf X |
Similar in shape to the DC Surf Wide, the DC Surf X is a crowd favorite for all SUP surfers. Featuring the bio-friendly and sustainable SLX (super light epoxy) technology, the DC Surf X is designed to be used in a wide range of surf conditions, tested in waves your everyday surfer would take a mini gun out in!