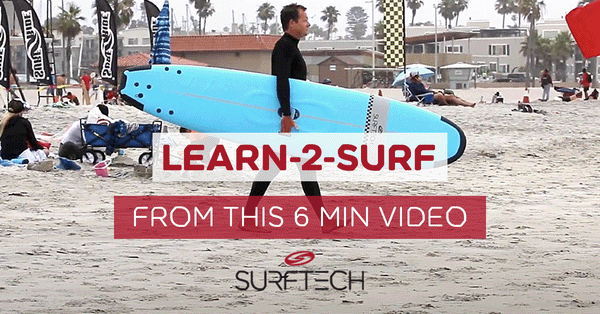 Learn-2-Surf Guide
Surftech's Learn-2-Surf Guide w/ Colin McPhillips
THE DIY GUIDE TO LEARNING HOW TO SURF...
The Surftech "Learn-2-Surf Guide" will allow you to teach yourself to surf on the Surftech L2S Softop or L2S Blacktip following a few simple techniques taught by Surftech's Colin McPhillips. Colin goes through a 3-Step process to show you how to use the Surftech Learn-2-Surf boards with Board Positioning Technology to properly paddle, pop-up, and ride a wave.
LEARN-2-SURF SOFTOP
The Surftech Softop® and Blacktip's has been the industry standard for over 20 years and is the best choice for first time surfers, surf schools, rentals, families and the destructive grom. We developed the Learn-2-Surf® Softop® series which features our board positioning technology, bringing you the best product on the market for beginners and experienced surfers looking to have fun. Designed to hold up to the most demanding conditions, the Surftech Softops® are not only durable but look and surf great with shapes suitable for any level surfer. The hard bottom provides the stiffness needed for fast, down-the-line surfing while the soft deck is safe for the entry level surfer riding the wave of their life for the very first time. They are extremely durable, lightweight and guaranteed fun.
LEARN-2-SURF BLACKTIP