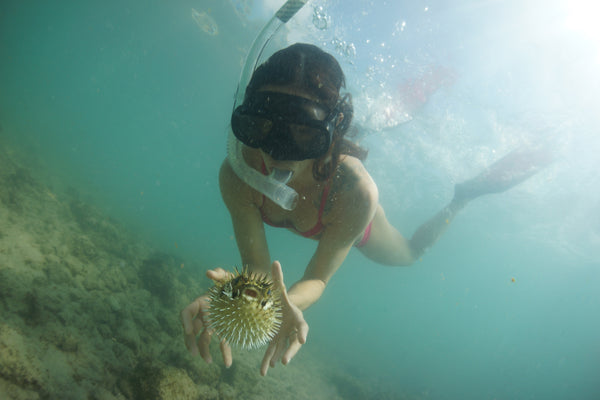 Your Aquatic Playground: 5 Tips to Plan an Incredible Aqua-venture with Jessica Cichra
For many, the desire to be around water on vacation comes naturally. It physically calms the mind and is an infinite playground for little and big kids alike. Planning a trip can be overwhelming with so many options and perhaps limited time, so here are 5 tips on how to make the most of your aqua-holiday.
Destination: Pick a destination surrounding a beautiful body of water. Exploring a place from the water provides a feeling of freedom offers unique perspectives. Imagine feeling the mist from a whale taking a breath while on your paddleboard, or
sailing out from the marina to turn around and see a glorious mountain-lined coast.
When considering submerging in or being active on the water, one should research both water temperature and conditions. Look for a variety of conditions and somewhere conducive for enjoying the water from above and below. For instance, a fun surf break for playing in the waves near a protected bay with calmer water for snorkeling, SUP touring, boating or floating. Not only will this help you find balance and lend to a variety of activities, but also suits different experience levels for everyone that is sharing your journey.
Group travel: Whether you set off on a solo mission or depart with a crew, it's part of the adventure to connect with other humans while traveling. The best part is, you already have some immediate things in common –you've been kissed with wanderlust, have chosen this particular destination, and are in a transient state of mind. Because you're out of your element, bonding comes quick and with people you may not befriend otherwise. That's the beauty of it –when you step out your norm, minds are more open and hearts are more accepting of different perspectives and ways of life. Be sure to venture outside the American bars and visit local hotspots to engage the residents. Eyes will open and your soul will sprout when you share the journey with new people in a new place.
Accommodations: We all want to feel comfortable, but sometimes resorts can be so resorty… in that they can feel uniform or like they're in the same place, no matter where they are in the world. Find somewhere comfortable with a cultural vibe. Staying in the village vs. within a resort compound will immerse you in the pulse of the town, so you can really feel its buzz, even in a short period of time. You'll absorb the local flavors, sounds, and smells, and marinate in the culture… that's why you went somewhere new, right? In today's world, finding vibey local digs are more accessible with AirBnB, VRBO, TripAdvisor and the like. Also, being in close proximity to water or better yet, having a water view is ideal. Imagine watching dolphins play while you sip your morning coffee, or checking the break right from your balcony. You'll inevitably feel more relaxed, be enticed out of your room for a swim, and increase your chances of spotting animal friends.
Wildlife: Connecting with nature and its creatures is a highlight of any trip. From spotting bald eagles on the river, to paddling with sea turtles in the ocean, or snorkeling with manatees in the springs, interacting with an animal in its natural habitat is incredibly special and spiritual. SUP touring on a trip is ideal because without the sound of a motor disturbing the peace, you can see an abundance of wildlife. With inflatable SUPs like the Surftech Alta Air it's easier than ever to pack your board and paddle wherever you go. Also, getting started early before the crowds arrive, and spending more time on the water will increase your odds of animal sightings.
Balance: Like using the physical practice of yoga to prepare for meditation, you may use activities like paddling the lake, or walking the beach to prepare for relaxation. It's important to find balance on your holiday, so be sure to revel in the action and the party, but restore in stillness and reflection. Traveling is so much more than an escape from routine. Lots of personal growth can happen after a day of exploration when sitting with your toes in the sand, watching the sun set over the water. Drink it in, absorb the nectar of the place, and let the aquatic adventure lend to your personal evolution.
If you're looking for a life-enhancing retreat like this, but don't have travel buddies or the time to research and plan it all, join us on one of our experiences below. We carefully develop each trip around an amazing destination on the water, hand picking the best of local activities, accommodations, dining, and more for your ultimate vacation. Plus, we offer it a price equal to or less than what you'd pay if you pieced it together yourself, but without having to do all the legwork. So come thrive with us and ride the wave of adventure.
Save $100 with promo code "Wave of Wellness" on any Wave of Wellness or Flow World Travel escape:
Aqua-ventures led by Jessica Cichra:
Thailand Adventure Vacation: January 20, 2018, by Flow World Travel
Punta de Mita, Mexico Tour: March 4, 2018, by Wave of Wellness
Girls Rock Sayulita: June 16, 2018, by Flow World Travel
More aqua-ventures by Flow World Travel:
Bocas del Toro, Panama: April 19, 2018
Oahu: July 2018
Barcelona/Menorca: August 2018
St. Martin: November 2018
#TheArtOfTech