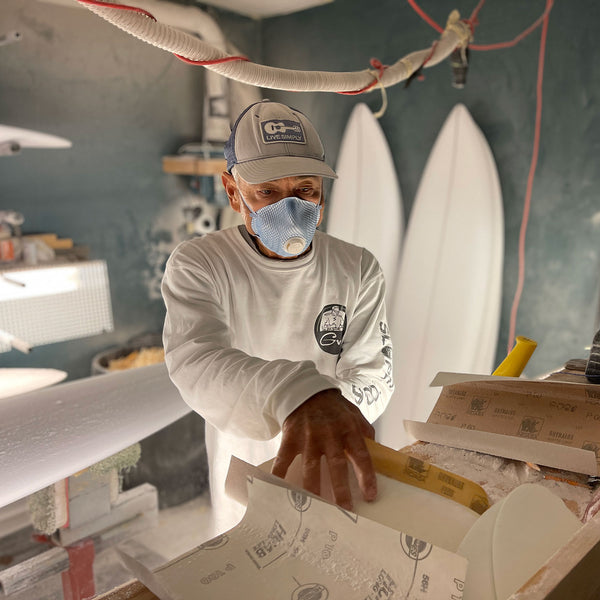 Gerry Lopez Q&A: The Simple Motivation Behind Why Gerry Lopez Shapes Surfboards
TURNING PLAY INTO HIS LIFE'S WORK GERRY LOPEZ KNOWS THE VALUE OF 'SHOWING UP.' BY LOGGING, POSSIBLY THE MOST AND VERY ARGUABLY THE BEST, WAVES OF ANY SURFER/SHAPER IN THE WORLD GERRY DEVELOPED AN INTUITION THAT DEFINED AND CONTINUES TO INSPIRE HIS SHAPING STYLE. WE SAT DOWN WITH GERRY IN THE SHAPING BAY TO ASK HIM A FEW QUESTIONS.
Browse the full collection of surfboards from Gerry Lopez x Surftech

Can you tell me about the best surfboard you ever rode? Did you shape it? Where did you surf it?
Oh, boy. You know, when you've been surfing as long as I have, there's really a lot of good boards, and I don't know, there's no real best one, but yeah, I've been shaping boards for 54 years now. Holy cow! Yeah. And, you know, All the way along, there's been some really great ones, but it wasn't so much the last one as the next one. It's just kind of like in surfing, you know, it's not so much the last wave you had, it's the next one you're going to get. And that's maybe one of the — you know, the downfalls of being a surfboard builder is that every time you're riding a board, you're thinking how you can improve it and that's why you're always thinking about that next board. There's never one that's just perfect. There's always room for improvement and, you know, some small (or big) modification there's your next board.
That's cool. It seems like the more boards you shape, the better your boards are going to get. Can you tell us more about how you learned to shape?
People don't realize that it's not that hard to make a surfboard. And there's a lot of things that you can't really explain totally going on in surfing and in surfboards. And a lot of times a guy will just say out of the blue, "I'm going to make a surfboard," and this is what happened to me. You know, I mean, actually, it wasn't even my idea, it was a friend of mine. I just got this board from Dick Brewer in 1967 and it was the very first short board of that period. It was really a great board because it was different. Everybody had long boards and all of a sudden I had a shorter board. But it was really lightly glass and so it didn't last that long and I wanted to get another one, but by then everybody wanted to get these same shorter boards and Dick didn't have any time for me. And this friend of mine goes, "Well, let's just make our own boards." And I went, "we don't know how to do that." And he goes, "we'll figure it out along the way, you know?" So we stripped down our long boards so we had some foam and he went first. We only had one pair of sawhorses in his dad's garage, you know, and he had at it and shaped this board. And then it was my turn. I don't even remember what it looked like, but it was short. it was seven foot six, you know, which was a foot shorter than the board I had been riding, which was already, you know, one of the shortest boards around. We shaped them up and then we glassed them up and then when they were done and we took them down and went surfing — man, they felt like they rode like the wind. You know, they were just great. And I was coming in from that first session and another friend was in the parking lot and he had money in his hand. He said, "I want that board. " I took the money and just like that I was in the surfboard business, you know, and then it's been a long long process ever since I've just, you know, one board to the next. And a lot of them along the way have been boards for myself and I see that with my son, you know, he's made so many boards for himself. And that's part of the process is that there's a lot of experimentation, you know, and you got to try stuff to see if it works, to see how it works and, you know, to see if you can improve what you already have.
"Every board I made would make surfing that very difficult wave a little easier."
- GERRY LOPEZ
You make shaping surfboards sound so easy. In fact you seem to make a lot of things seem easy. What was your approach to surfing challenging waves like the Pipeline?
It had more to do with the board than anything else. There was a lot of experimentation with trying to build boards for the pipeline in the very beginning. We had an advantage. Going back to that first 8'6" Brewer when I took that out of the Pipeline, it was such an improvement over any of the long boards that we ever rode out there. And then, once I started making my own boards, one board after the other, every board I made would make surfing that very difficult wave a little easier. But it took a lot of boards, you know, and the Pipeline is notorious for breaking boards in half. So because the next day there's probably going to be more waves you go back and make a new board. And each one was an improvement over the last one. And that was the beauty of not only shaping but, you know, building your own boards, combined with wanting to raise your skill level in surfing to become a better surfer. You know, you wanted to improve your surfing skills, but you only could to a certain point, then you had to get a better surfboard. That's kind of been the story of my whole life, you know, trying to make a better surfboard to try and have a little more success in surfing.
How do you balance the surfer/shaper role?
I mean, you know, when I was young, I remember I had, I guess, kind of an epiphany. I was out surfing and I was just a kid, but I looked around and all morning, I'm going, "wow, where's all the good guys?" You know, the guys like in their twenties, you know, they're the top surfers and where are they? One of the old guys was out there and I went and asked him, and he goes, "oh, they're working." And I realized if you go to work, you're going to miss the good waves. I thought back to when I sold that first surfboard to that kid in the parking lot, and I went; this might be a good way to have a job. And you know, it evolved into being the greatest job in the world if you want to be where the waves are good. All my customers understood that if the waves were good, it was going to take a little longer for them to get their surfboard. So it was a good way to live if you wanted to be a surfer.
What do you dream for the future, your future, your family's future, future of surfing?
Well, I think the beauty of life for me right now is seeing my son embracing not only surfing, but surfboard building as well. Watching him enjoy all the same things that I enjoyed is neat. It's a little bit of a different world, but in a lot of ways, it's still the same, you know, and it's a good life. I think we're pretty fortunate that we got to be surfers in this lifetime. Surfing is a great way to live.
Is it the surfer, the board or the wave?
Well, it's all a bit, you know, it's a dance. And you know, your surfboards, your partner, the waves, the music and it's one of the greatest dances there is in life, I think. And I've loved every moment of it.
If you're going to give advice to a new surfer, what would you
tell them?
Keep paddling.

Browse the full collection of surfboards from Gerry Lopez x Surftech