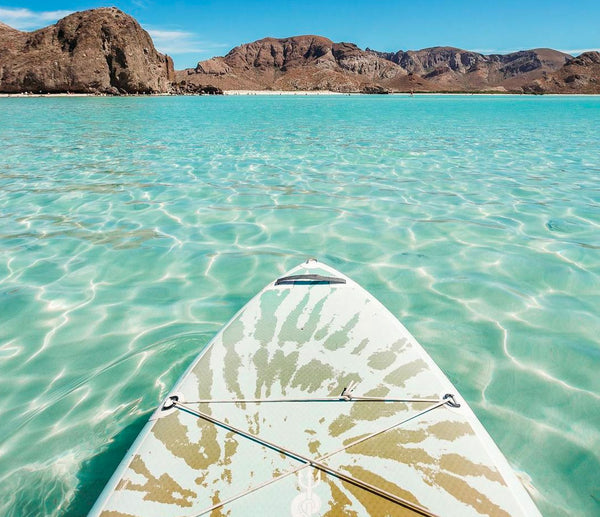 Place to Paddle: SUP Baja California
While we don't believe in blowing up the spot, we know getting out somewhere new can be intimidating. For that reason, we've put together a series of guides detailing our favorite places to stand up paddleboard. No secret spots were named, don't worry. But our helpful hints should make your next trip a little safer and more accessible. Chances are you won't show up looking like a local with a lifetime of experience at a spot after reading our guides, that kinda expertise can only be earned with time. You may avoid a costly and embarrassing parking ticket though. Ultimately, we believe the best part of paddle boarding is the sense of adventure and the new experiences every day on the water brings. Our goal is to foster the confidence needed to chase those new experiences. Hopefully, our humble suggestions will get you out and paddling in new areas. And if you do get out on your own adventure, drop us line @surftechUSA or tag #PlaceToPaddle.
Written by @the.wanderpreneurs
Baja is the beautiful peninsula of Mexico that is becoming more and more popular. Our family of four just spent over 3 months touring the entire area in our RV, paddle boarding every chance we got and falling in love with the stunning waters of the Gulf of California. I want to share our top 6 spots to push off on your board and explore!
Though Baja affords much alone time it is also a great place to make friends on the water.
1. The Mulegé River Mulege is a charming little oasis town just as you cross over into the state of Baja California Sur. The Mulegé River cuts through the town, and ends at the Gulf of California. During high tide, the river is a great spot to paddle. It's flowing enough to be a good workout (an even better one when paddling upstream) and the views of the homes and little restaurants along the palm tree lined river are really beautiful. Mountain views and lots of birds will also be part of this experience, so don't forget a waterproof phone case to capture the beauty! This out-and-back paddle can either be started under the bridge in town or on the coast where the river meets the gulf.
2. Bahía Conceptión An entire list could be made up with just the many beautiful beaches and quiet coves in Bahía Conceptión. It is paradise and I think we paddled just about all of them! The clear blue green waters are filled with all kinds of sea life that you can see right from your board. We saw all kinds of fish, stingrays, manta rays, sea turtles, dolphins, and crabs, along with tons of birds. One evening, at Playa Santispac, we went out for a night paddle and got to experience bioluminescence! The electric blue streaks in the water we witnessed with each stroke of the paddle were mind blowing. It was an experience we will never forget. **Insider tip** There are some hot springs you can paddle to from Playa Santispac. You will have to ask around and see if anyone is willing to share the two secret spots!
Siesta SUP style!
3. Loreto We really enjoyed paddling out from the beach in front of the airport in Loreto. You have a majestic mountain backdrop to admire and TONS of birds to watch. We didn't see as much underwater sea creature activity here, but the bird watching was incredible. We did see whales in the distance one day, which was a really cool experience! I decided to try a little paddle board yoga for the first time here, but couldn't nail the headstand I was trying so hard to master! **Insider tip** Bahía de Loreto National Park is a set of 5 islands just off the coast of Loreto. While you will have to rent a boat to get out there, we enjoyed paddling around the white sandy beaches of Isla Coronados.
Beautiful Balandra beach from above
4. Balandra Named "Mexico's most beautiful beach" by many, Playa Balandra is so popular that there are only certain times you can visit. They also restrict the amount of time people can be there. When we were there in winter 2022, there were two beach sessions to choose from. An early morning session from 8am-11am and the second is from 12pm-3pm. They do make you leave once your session is over. At times they charge for admission, but most days they don't. They only let 180 people in at a time. We highly suggest checking the tide charts and going during high tide. The water is always shallow there, but it is deep enough to paddle board around during high tide. The water was clearer than any other water we'd ever experienced! The water at Balandra is known for being exceptionally calm pretty much all the time. The limited time we had there wasn't enough, so plan to go multiple times if you want to really explore the area fully.
5. Tecolote Playa El Tecolote Is very close to Playa Balandra. Many people find that when they arrive to Balandra, the person limit has been reached and they aren't admitted. Tecolote is just a bit further down the road and another stunning beach to visit if you get turned away at Balandra. We just made a separate trip to Tecolote and came back several times since we loved it so much! The waters at Tecolote are not as calm as Balandra, but they are still good for paddle boarding if you are there on the right day. Some days are far too choppy. The water is extremely vibrant at Tecolote, boasting a vivid blue-green tone that is hard to put into words. It's a lively beach, with restaurants, bars and people who like to party! You can drive away from the hustle and bustle though, find a quiet spot and put your board in, paddling around the beautiful waters. There are some really cool rock formations to explore on either side of the bay!
6. Cabo Pulmo Cabo Pulmo is one of the National Parks in Baja. Some days the waters are more rough and choppy, but other days are great for paddle boarding. We visited Los Arbolitos, as we read it had the best snorkeling in the park. It's a long, windy, rough dirt road to get there, but it's worth it. We don't have wetsuits, and the water was a bit chilly that day, so we paddled out to the reef, laid on our boards and stuck our heads in the water to see the incredible underwater aquarium just below us. After hours of exploring the reef, we paddled a bit further and stumbled upon a large area of perfectly round boulders that looked like they'd been dumped right on the beach! It was the perfect area to explore by water and also by land, as it was easy to pull up on the sand and check it out by foot. At each of these places, we found the morning hours to be the best time to paddle during the winter, as the wind usually picked up in the afternoon and sometimes even by late mornings. On days that the wind would die down in the evening, we loved having evening paddles and enjoying sunsets and moonrises on the water. Baja is a pretty wild and rustic place, with much of it still untouched and unspoiled. As more people find out about how special it is, it's important to remember to respect the wildlife as well as the locals, and ALWAYS leave it better than you found it. Bringing paddle boards to Baja is a MUST, as it allows you to explore not only the land but also the incredible waters there. You won't regret it, I guarantee! 
Perfectly Packable the Air-Travel Alta is the perfect SUP for Baja paddles.