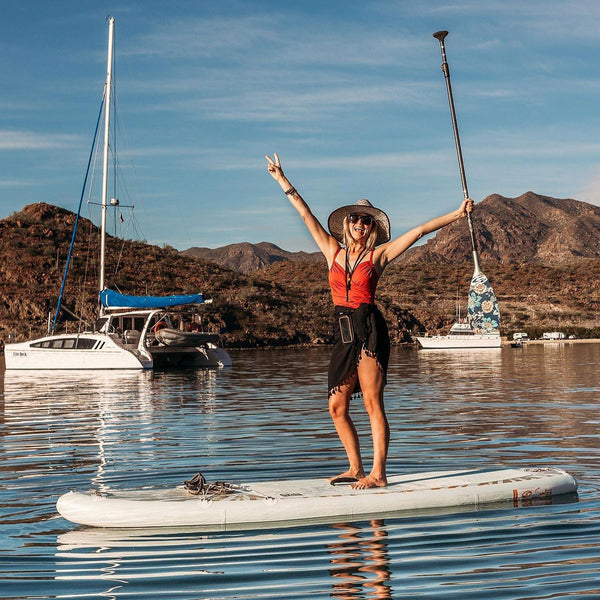 The Wanderprenuers share their thoughts on full time travel and paddle boarding Baja.
You may have noticed us reposting a lot of our new friends the @the.wanderpreneurs content. We recently crossed paths with the couple and their two well-mannered kids on their way South into Mexico. They had plans to bring stand up paddleboards along with them on their journey through Baja that fell through and we were happy to get them set up with a pair of our newest Air-Travel Inflatable SUPs. Honestly, the best part of making surfboards and SUPs is placing them under real people's feet and seeing the experiences they have with the boards. Every time we see the family paddling the blue-green waters of the Sea of Cortez with big smiles on their faces, typically a small ocean creature swimming below, we feel fulfilled. Not only because our hard work and products are in a small way allowing @the.wanderpreneurs family to endeavor on these great ocean experiences, but also because they are creating stories we think will inspire you to get out there and create your own aquatic adventures. We recently sat down with the family to see how their trip was unfolding. Here is what they had to say.
Who are the Wanderprenuers? Names, age, occupation?
We are a family of four who sold it all to live larger with less. We moved into an RV in 2018 to travel full time, chasing adventure. Aaron is 38 and owns his own company building websites and doing digital marketing. Lauren is 41 and creates online content as a writer and photographer. Casen is 11 and Calista is 9, and they are "roadschooled," learning on the road through our travels!
The entire family posted up in front of their moving home.
Talk to me about life before getting on the road. Where did you live? What did you do?
We lived in a suburb of Atlanta before hitting the road. We had a nice house, nice cars, lived in a great community and the kids went to a good school. It seemed like we were living the American dream. However, we were becoming very busy and found ourselves having less time for things that were really important to us. We were spending less time hiking and in the water, and less time all together as a family. We decided our dream was different and decided to make some drastic changes to make it a reality. Aaron already worked remotely, and Lauren was a family photographer. Aaron easily transitioned from a home office to work on the road and Lauren left her local clients and started documenting our travels, building an online following on Instagram and our travel blog.
How has life changed for you since packing up the trailer?
We have so much freedom and it's incredible! We can go whenever we want, whenever we want. We're all learning so much and broadening our world view as we meet people from all walks of life, building friendships wherever we go. We've traveled all over the US and throughout Baja, and it just doesn't get old.
"It's tough to be disciplined enough to get work done when your back yard is always changing and the views are almost always calling you outside to play!"
We've been following along as you make your way down the Baja peninsula. It looks scenic and beautiful beyond imagination. Can you share some of the highlights of the trip?
Oh man, where do I start?! Baja has changed our lives. We've seen some of the most stunning waters, mountains and deserts, and met lifelong friends during our 3.5 months in Baja. We love it so much that we're actually looking to buy land here so we always have a spot to park when we visit! The wildlife here is just amazing. We've experienced a baby leatherback turtle release, swam with whale sharks, snorkeled a world class reef, and our Surftech paddleboards have carried us into the most incredible crystal clear waters where we've paddled around all kinds of marine life including manta rays, jellyfish, sea turtles, sharks and more!
Perks of travel
What have some of the challenges been? 
Our biggest challenge in full time RV travel is balancing work and fun. It's tough to be disciplined enough to get work done when your back yard is always changing and the views are almost always calling you outside to play!
With most things in life traveling full-time has to balance many trade offs of good for bad. What are some of the trade offs of living life back at home vs traveling? 
We find that the positives have far outweighed the negatives. We live tiny, so everything is smaller. We don't mind, but it did take getting used to. I have less room for cooking, showering, etc. but that also means less to clean! Our kids were involved in sports when we lived in a sticks and bricks house, and they started to miss that, so we now stay put for several months once a year and enroll them in sports they love! Things to break frequently in an RV, but we don't mind fixing them, as our beloved home on wheels allows us to stay on the move!
How about traveling with two kids. What is your approach to education? How is their sibling bond affected by travel? Have you noticed a change in the way they see the world during or after your trips?
"As I met other traveling moms, they showed me how much freedom we have to learn in different ways."
Our kids have always been close, but we were realizing they were starting to drift apart as they started school. When we pulled them out of school and started traveling, their bond grew so much stronger and it's been so awesome to see it grow. They have bunk beds and share a room and they love it. Hearing them talk and giggle each night before falling asleep is heart warming. Of course they bicker like all siblings do at times, but they are very close and have a bond that will never be broken. When we pulled them out of school, I thought I would try and mimic school, teaching all subjects every day with a specific start and end time. As I met other traveling moms, they showed me how much freedom we have to learn in different ways. My view on education has changed drastically in the past few years. We now focus on learning based on the kids interests, and also on learning about the history, culture, language, animals, etc. of each place we visit.
Have you felt isolated during your trip at all or have you planned meet ups with friends along the way? Or have you been able to meet new friends during your travels?
I couldn't believe how many other families were traveling full time in RVs when we hit the road! We have never felt lonely in our travels. We are almost always traveling with other families or meeting up with friends along our route. When we meet people that we really hit it off with, we just plan to meet up again or caravan together for periods of time and it has worked out really well! We have an amazing road "framily" that we treasure.
Are you guys always moving? How do you decide where to go next? 
We typically move every 10ish days on average, except for the few months that we stay put for sports now. We plan our travels based on places we haven't been yet, places we love and want to revisit, places our extended family is, and places our friends are or want to visit, so that we can be with our community!
Would you recommend a travel lifestyle similar to your? What advice, besides bring a stand up paddle board everywhere you go, would you give to aspiring families looking to follow in your footsteps?
YES! We highly recommend full time travel and RV travel to everyone! It has enriched our lives in ways we can't even describe. We document the good, bad, hard times and fun times, so be sure and give us a follow on IG @the.wanderpreneurs and we are also always open to answering questions. We aim to inspire others to travel more and get outside! Also… YES to recommending bringing a paddleboard on your travels! Exploring the water on a board has become one of my favorite outdoor activities EVER and we highly recommend!
Learn more about The Wanderpreneurs
Looking for your own Inflatable SUP. Shop Surftech's Air-Travel Inflatable construction for superior durability and performance.