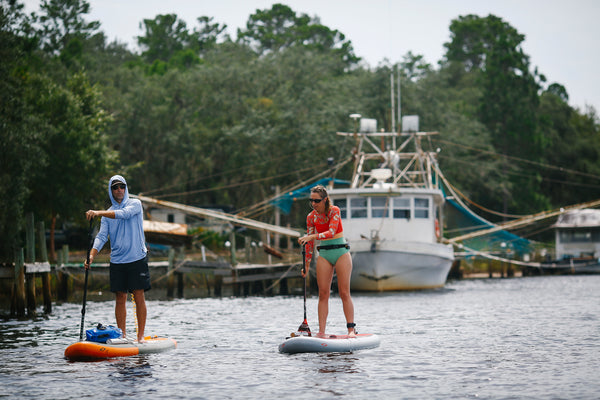 Skip Jack Air Travel with Gabriel Gray [VIDEO]
Surftech is making paddle boarding portable, fun and wild with the Air-Travel Skip Jack. This inflatable board combines progressive outlines to the most advanced drop stitch technology to create a durable yet lightweight and compact inflatable SUP. The proprietary printing process allows us to bring you unique graphics for a board that will make any outdoors enthusiast excited to get out to hunt or fish on it.
Team Rider, Gabriel Gray has been been using and testing the Skip Jack since we sent him the first prototype last fall, and it is his new "go to" board.
This board features:
Surftech's superior inflatable technology with the most advanced drop-stitch material, double layer construction and UV stability for a strong, durable and lightweight board.
3/4 integrated DeckPad
4 deck tie downs to bring gear on your adventures
A centred padded handle and two other handles at the front and back of the board to carry it around easily
2 permanent side-bites and a removable 9" soft fin with key-less screw included
A backpack to carry the board around or for compact storage
A high pressure valve and double action air pump with gauge to speed-up the inflation process
To purchase your Skip Jack, head to your local Surftech dealer, or check out our online shop.
#TheArtOfTech