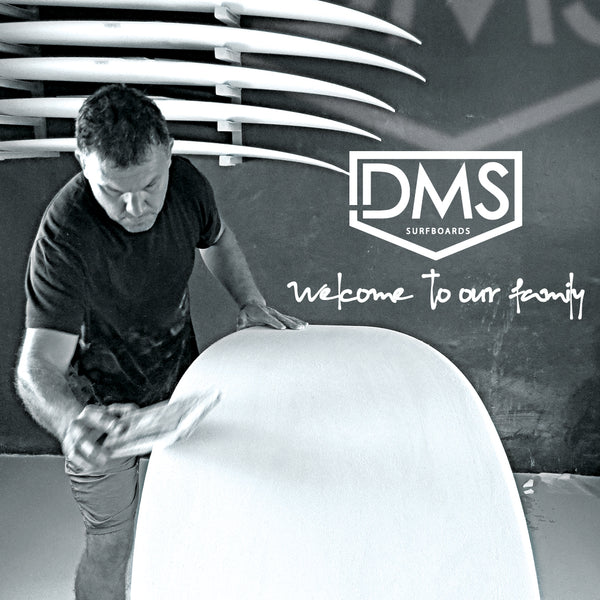 Surftech Welcomes Daniel MacDonald Shapes to Family

Surf Technicians Launches New Partnership with Daniel MacDonald's DMS Brand at the Upcoming January Surf Expo Trade Show.
Carlsbad, California. November 19, 2018. After more than eleven months in development, testing and perfecting, Daniel MacDonald Surfboards and Surf Technicians will be launching the new DMS label to the US market this month.
Daniel MacDonald is the highly respected Australian Shaper best known for his very successful Carbon Wrap designs. The new technology found in the upcoming DMS collection all feature what Daniel calls "Injection Tech". It brings the idea of Torque and Flex control into a whole new realm of possibilities. Surf Technicians sees it as a major technological leap in the further progression of surfboard design and performance.
Simply put, in this design, the Carbon tape is actually inserted through the board from the bottom onto the deck just ahead of the fin boxes. The change in feel over a normal board is immediately noticeable as is the performance during turns and changes in directions.
"Everyone here at Surf Technicians is really amped after riding this new technology for several months now. You can really feel a difference and the response and precision in which these boards turn is quite remarkable. We are all really humbled to be working with such an innovative shaper on these very technologically advanced boards." Said John Vance, CEO At Surf Technicians.
Daniel MacDonald, Owner of DMS and patent holder for both Carbon Wrap and Injection Tech says, "I am very excited to be working with the crew at Surf Technicians. I could not have brought such a technologically advanced construction to market with-out their involvement. I am really looking forward to seeing people's reaction to this new direction in surfboard design and construction."
The first three models are arriving right now and can be ordered right now or you can see them at the upcoming Surf Expo Show this coming January. Either way, we are sure you will be impressed.
About Surftech
Shaping the Art of Technology: Surf Technicians was founded in 1989 in a quest to find and utilize new technologies that would bring game improvement to surfers of all abilities everywhere. We build boards for many of the best and most popular surfboard brands on the planet and we were the first to do it! Today we continue to employ the most advanced materials and manufacturing technics available. We continue to push every boundary utilized in manufacturing, while also attaining a high level of sustainability. We build what others can only dream of doing. Visit us at www.surftech.com for additional information.